On April 21, ABC reported conspiracy theorists were burning 5G towers, claiming they were linked to the coronavirus. Since things have clearly gotten out of hand, we thought we should address these rumors flying around. We don't want you missing out on a wealth-generation opportunity like 5G stocks because a few people have gone off the deep end.
5G is more poised to help than hurt people. For that reason, the 5G technology industry is projected to grow 11,900% in just six years, from $5 billion to $667 billion.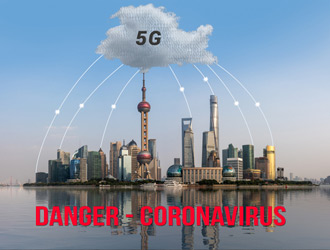 We're going to show you one of the top 5G stocks to buy in the meantime. But first, let's get some things out of the way.
As of now, there is no evidence that 5G is a plot to give us all cancer. And there is almost certainly no evidence that it causes COVID-19.
We'll talk about why there's little truth to these claims today. After that, we'll get to one of the top 5G stocks you can buy to take advantage of this 11,900% growth industry.
Let's start debunking...
Does 5G Cause Cancer?
Possibly the most rational-sounding 5G conspiracy theory is that 5G causes cancer. It's at least reasonable at first glance, because 5G is electromagnetic radiation.
Electromagnetic radiation is also present in X-rays and CT scans. Should you worry?
It turns out, wireless devices operate on a completely different wavelength than X-rays and CTs. 5G is still in the radio frequency (RF) range of electromagnetic radiation. Radio waves are a longer, lower-frequency wave than microwaves, and even lower than sunlight.
Unstoppable: Our new Premium Stock Pick kept climbing while the rest of the market tanked. And as a leader in a new billion-dollar market, the gains are just getting started. Don't miss out - get this pick for free here...
However, the fact that they are on the same spectrum has stirred fear since the dawn of the Internet. Studies in labs have shown 2G and 3G frequencies can cause cancer in rats. There are, however, problems with extrapolating that to the human world.
For one, they are rats. Not people.
The National Toxicology Program (NTP) that conducted the study even said the rats and mice were exposed to radiation "across their whole bodies." They said this "could not be compared directly" to what humans experience in cell phone use. They also said that the "exposure levels and duration in our studies were greater than what people experience."
Basically, if you give a mouse a CT scan, the mouse is consumed by radiation. No surprise there. There's a difference between exposing a rodent to radiation for a long time and holding a phone to your ear.
The same test hasn't been performed yet using 5G frequencies. So there is still nothing to back up any claim that 5G is more cancerous.
Rest assured: 5G is still on the non-ionizing side of the electromagnetic spectrum. That means it does not damage the insides of human cells.
But does that stop it from accelerating COVID-19?
Is 5G Behind the Coronavirus?
Some fear that 5G frequencies cause COVID-19 or accelerate the spread of the virus. But this one is even easier to debunk than the connection between radiation and cancer.
The argument was that COVID-19 resulted from a "debris" excreted by human cells that were poisoned by 5G waves. Doctors have countered this in droves.
A Canadian virologist, Jason Kindrachuk, said that viruses are "not just debris" and that they "don't just get created as a way to deal with poison." To Kindrachuk's point, scientists have been able to recreate the virus in a lab, showing it's not simply a secretion from human cells.
Another theory suggests that mobile communications inhibit the immune system from fighting COVID-19. But it's supposedly so deep on the molecular level that it's difficult to prove. Conspiracy theorists will support this by saying that Wuhan, China, ground-zero for the coronavirus, was also the first 5G city.
But it was not. Wuhan was among several trial cities for 5G including Beijing, Shanghai, and Guangzhou. These cities have all had varying levels of coronavirus exposure.
But if there's still any doubt, the coronavirus is present in areas that don't have 5G at all.
5G Is Going to Fuel a Healthcare Revolution
There is no clear evidence that 5G is damaging to your health.
If you're reading this, you probably wouldn't have given up texting and surfing the web on your 2G and 3G phones back in the early 2000s over some rat study. In the same way, the 5G frequency, which can be up to 10 times greater than its predecessors, will have benefits far outweighing any miniscule radiological threat.
There are actually plenty of medical benefits to 5G. With speeds up to 100 times faster than 4G, doctors can communicate more quickly with patients and staff. This would open the door for remote surgery where doctors can see what's happening inside your body from miles away.
They can even monitor patient vitals through wearable devices. Imagine getting a regular check-up in seconds, no need for a visit.
This is a matter of better, faster healthcare access for everyone. And that's only part of why this industry is going to be so huge.
Now that you want to grab a piece of this 11,000% growth market, this is the best 5G stock to buy right now...
The Best 5G Stock to Buy Now
Join the conversation. Click here to jump to comments…
About the Author
Mike Stenger, Associate Editor for Money Morning at Money Map Press, graduated from the Perdue School of Business at Salisbury University. He has combined his degree in Economics with an interest in emerging technologies by finding where tech and finance overlap. Today, he studies the cybersecurity sector, AI, streaming, and the Cloud.