The coronavirus crash sunk the Dow Jones as much as 37% back in March. Travel stocks were some of the first to go. Cruises especially. Royal Caribbean Cruises Ltd. (NYSE: RCL) went from $134 to just $22, an 83% loss.
But these cruise line stocks just got a big catalyst that's sent them soaring back. Norwegian Cruise Line Holdings Ltd. (NYSE: NCLH) is even up 100% since lows.
But is Norwegian Cruise line a buy right now? Here's what you should know about that.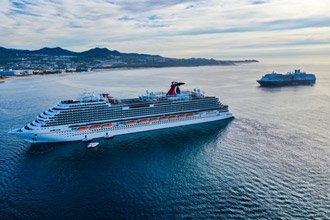 It's true that cruise stocks have been steadily going up since the economy started reopening over the last few weeks. Royal Caribbean is also up 81% in the last month, at $70 now.
But the summer is just getting started. There are still a lot of unknowns about COVID-19 and the volatile market we've experienced.
Before we reveal how you can make money here, let's talk about what's happening in the cruise industry...
Why Norwegian Cruise Line Looks Promising
Being cooped up in a box at sea isn't the best for social distancing. So cruise stocks were among the first to fall in the COVID crash.
But they've also been the first to pop.
Norwegian Cruise Line has gained 41% in the last month alone. However, the upside could be even greater considering Norwegian's leadership of the industry.
The company responded prudently to lockdown losses in May. They had lost $1.88 billion from having ships stuck in port. But Norwegian was proactive in fixing the balance sheet with a capital raise.
The company said it would be enough to protect them from voyage suspensions for 18 months. This looks to be true, as Norwegian is sitting on $1.3 billion cash at the moment as a result of the raise.
That makes them highly resilient to any shocks that could come along. But as the economy reopens, you can expect even more upside on travel stocks and cruise stocks.
There's short-term potential here for traders to ride the momentum higher. But the long-term is cloudier. It's still uncertain how the cruise industry will fare. Or how long it will take for the pandemic to resolve.
Even with a vaccine, people may be less likely to book cruises after what the horror stories of the virus spreading in cruise ships this spring, with hundreds stranded aboard in quarantine.
While Norwegian is one of the strongest cruise stocks, with how much COVID-19 has changed the world, it's uncertain whether the industry will ever fully recover.
Right now, you need an opportunity that will thrive in the new economy once the pandemic ends. This opportunity is in work-from-home stocks.
It's a $624 billion industry in the making...
The Best Sector to Invest in Right Now
[mmpazkzone name="in-story" network="9794" site="307044" id="137008" type="4"]
Teladoc Health Inc. (NASDAQ: TDOC) has been called the "Zoom of Healthcare" by Money Morning's Bill Patalon.
You're probably familiar with Zoom Video Communications Inc. (NASDAQ: ZM), the video chat interface everyone's been using over lockdown. That stock has gone up 217% since January, from $68 to $216.
It's bound to go higher with our new "normal," as more businesses are forced to operate from home. The healthcare industry could see the most dramatic shift in this video-conference world.
Imagine doing yearly check-ups by video. That's the kind of opportunity Teladoc provides. It's the leader in virtual care delivery (VCD) systems.
Their technology allows for doctors to reach patients at home. Pharmacists can run virtual clinics with patients ad-hoc. Medical records providers can also send important data to doctors conducting virtual appointments with patients.
That's not even accounting for wearable medical devices, an Internet of Things (IoT) to allow doctors to track the health of some patients in real time.
The advancement of technologies like AI, cloud computing and IoT will make "connected health" a $624 billion industry, according to Grandview Research.
And Teladoc has been seizing this opportunity. The company has been growing sales by double digits over the last five years.
The company also has its hands in $57 billion of medical sectors - the specialist market, ambulatory care, and behavioral health.
The company's most recent earnings report shows a 41% jump in sales, hitting $181 million. Due to the lockdown, virtual doctor visits popped 92% to 2 million. Their total visits were 4.1 million for 2019.
So Teladoc matched half of last year's total in a single quarter for 2020. Analysts are giving it a $220 price target over 12 months. That's 25% growth.
But we haven't even begun to see what the stock is capable of when 5G communications arrive...
Action to Take: The economy is reopening, and Norwegian Cruise Line Holdings Ltd. (NYSE: NCLH) has a resilient front office to reward investors down the road. But the cruise industry is still questionable. You should look at stay-at-home stocks poised to outlast the pandemic. Teladoc Health Inc. (NASDAQ: TDOC) is one of those. Shares go for $175 today. But they could hit $220 later this year. Twenty-five percent growth for today's investor.
5G Companies Were Sitting Silent... so the FCC Launched a Multibillion-Dollar Initiative to Wake Them Up
5G isn't just an Internet upgrade anymore. The FCC just injected an unprecedented amount of money to roll it out faster than 1G, 2G, 3G, and 4G combined.
But this isn't just a positive sign for the roughly 162 million Americans who've recently experienced slowing Internet. If our projections hold, you could net a huge payout by year's end.
Follow Money Morning on Facebook and Twitter.
About the Author
Mike Stenger, Associate Editor for Money Morning at Money Map Press, graduated from the Perdue School of Business at Salisbury University. He has combined his degree in Economics with an interest in emerging technologies by finding where tech and finance overlap. Today, he studies the cybersecurity sector, AI, streaming, and the Cloud.