The surge in home demand is real, and it's going to last a long time.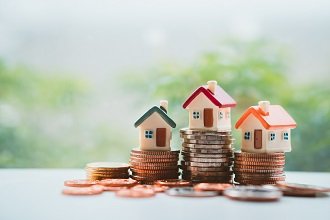 Of course, it would take a small fortune to win a bid on an investment property right now. Even if you've got a sizeable chunk sitting around, tying it up in one investment may not be attractive either.
Fortunately, the best REITs can give you the benefits of investing in real estate without the high up-front cost or hassle it traditionally takes.
REITs trade on stock exchanges just like any other stock. Plus, they're structured to pass a portion of profits directly back to shareholders. Even better than their dividends, the prices of REITs will go up as market demand rises.
Today, we're going to show you why the housing market isn't going to cool off anytime soon and how you can make the most money from it with the best REITs on the market…
Why REITs Are Perfect for This Housing Market
There is a combination of factors driving the demand surge in housing.
One is the fact that we didn't have enough housing inventory before the pandemic began.
Then once the pandemic began, a lot of people made two significant discoveries.
First, they realized that living in densely populated cities was no longer as attractive as it was a few years ago. Between unrest, lockdowns, and business closures these places aren't worth the cost.
Second, since the work-from-home concept was now a proven fact, we don't have to live in the city anymore just to find a job.
We are also seeing millennials start to form families. They are starting later than their parents and grandparents did, but they are, at last, starting.
Suddenly shopping and schools are more important than nightlife and the ability to get Chinese food at 3 a.m.
All of these factors have helped create a massive surge in demand for homes.
The demand has been so strong that it pushed prices of commodities like lumber and copper up to levels that pushed many buyers, especially in the lower end of the markets, out of the pool of potential home buyers.
The lull will be temporary, and as commodity prices begin to decline, prices will moderate, and buyers will come back into the market.
Having said that, it is going to take a long time to develop enough new housing inventory to meet demand, so home prices will stay high and go higher for the foreseeable future.
But instead of jumping into this notoriously competitive market by buying an investment home outright, you can get nearly the same benefit with a top REIT.
The
Best REITS to Buy Now
First is UMH Properties Inc. (NYSE: UMH), a REIT that owns manufactured home communities. It does not own the home itself but just the land upon which it sits. Homeowners can buy the house and just pay the land rent to UMH.
Manufactured homes are much cheaper than conventional homes and may be an attractive option for first-time and lower-income buyers.
What makes UMH's model work so well is that it doesn't have to worry about building or maintaining these homes, which cuts costs and risks. Home buyers just lease the land to put the home on.
UMH currently owns 129 manufactured home communities containing approximately 24,000 homes. It has communities in New Jersey, New York, Ohio, Pennsylvania, Tennessee, Indiana, Michigan, and Maryland. Earlier this year, it expanded its presence by purchasing communities in Alabama and South Carolina.
Given the national population shift that is occurring, UMH plans to look for other expansion opportunities in other Southeastern states.
UMH also has a division that sells and finances manufactured homes to customers who want to own in one of their communities.
As a top REIT, UMH passes along a chunk of its profits right to shareholders. And this business model is creating a nice dividend.
UMH Properties is paying a dividend yield of 3.5%, and the demand for low-cost alternatives to homebuying should provide a solid avenue for growth over the next few years.
It also has 1,800 undeveloped acres that may be developed into about 7,300 sites over the next few years. That should also help drive dividend growth and price appreciation.
Not everyone is going to be able to buy a home right away. Most listings are seeing several offers, and there have been bidding wars in some areas.
For those who are fleeing the urban areas and have to wait to buy a home, renting is still going to be the easiest option.
American Homes 4 Rent (NYSE: AMH) is the second-largest owner of single-family rental homes in the United States, with over 50,000 rental homes available. It is building rental home communities across the United States to help meet the demand for single-family homes. It currently has rental community development operations in 16 markets around the United States.
Deliveries of new homes in these communities grew by 75% in 2020.
If you've ever thought about buying a rental home to generate some extra income, then this is the REIT for you.
American Homes 4 Rent is designing these communities to be attractive options for families. Most of the houses have fenced-in yards. The communities have clubhouses and pools as well as co-working spaces. Lawn care is included in the rent.
Many of the communities also offer broadband and Smart Home options for an extra fee.
While it is structured as a REIT, American Family Homes 4 Rent is a growth story too. The demand for single-family rental homes is going to continue to grow for several years.
The initial dividend is low compared to many other REITs at just over 1%, but that should grow as the economy continues to improve.
The real story here will be the increasing value of the homes it owns. By creating communities, it will be much easier to exit properties when the time comes as the houses are located in neighborhoods with attractive amenities close to schools and shopping.
Is This the Retirement Catch-Up Americans Have Been Looking For?
Have you seen this new extra income hack yet?
Everyday Americans have been making 100%, 200%, 500%, or more… sometimes in a matter of days with this one new strategy.
Some of them are retiring from their jobs because of it. Others have paid off all their debt and bought their dream homes.