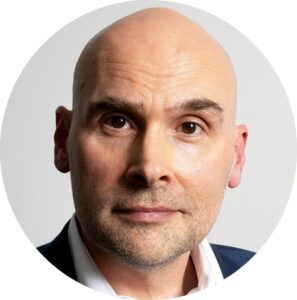 There's a war brewing…
Battlelines are being drawn in Chengdu, Suzhou, Tucheng, Hsinchu City, Kikuyo, Folsom,  Thousand Oaks, Casa Grande, Madison, and on to Portland, Maine.
The soldiers are names we know… Nvidia (NVDA), Intel (INTC), AMD (AMD), Broadcom (AVGO), Wolfspeed (WOLF), Texas Instruments (TXN), Hon Hai Precision (HNHPF), Taiwan Semiconductor (TSM), and more.
But the victims and victors could measure in the millions.
The prize is more than $1.8 trillion per year.
And already, the cloak and dagger has begun.
It's reminiscent of The Thing… And I'm not talking about the John Carpenter and Kurt Russell sci-fi, horror classic. I'm referring to something much more real and far more sinister...
Legacy and Warning of The Thing
Germany had waved the white flag. Adolf Hitler was dead. Not on the battlefield but in a bunker, by his own hand.
It would be another 29 days before Japan would surrender, officially marking the end of World War II.
But even during the celebrations, allies were already wondering who their next foe would be.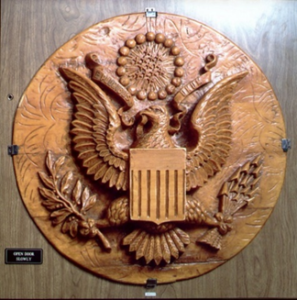 On August 4, 1945, a delegation from the Young Pioneer Organization of the Soviet Union wanted to honor the U.S. with a gesture of friendship. In front of cameras and reporters, they presented U.S. Ambassador Averell Harriman with a carved wooden plaque of The Great Seal of the United States.
The wooden carving was proudly displayed in the Ambassador's Moscow residential study for all visitors to see… as well as loom in the background of every private meeting of diplomats and heads of state.
But the carving was not a gift you see. It was a Trojan Horse.
For seven years, hidden inside was an ingenuous listening device devised by Leon Theremin (yes, of that theremin fame). It was able to pick up every secret… every high-level huddle… every plan and ambition.
And it wasn't planted by an enemy… at least they weren't then. But by a friend. An ally that we'd fought alongside against one of history's greatest monsters.
Ever since, relations between the U.S. and Russia have been icy.
But "The Thing" – as the Great Seal bug is known – serves as both a warning and a reminder.
It was one of the most successful spying campaigns ever. The technology used is still marveled at today.
But in those 80 years that have passed, technology has advanced to once-unimaginable complexity.
For the layperson, it's a great time to be alive. But in the same breath, the risks to national and personal security are higher than ever before. The Trojan Horse needn't be a carving mounted on a wall or a balloon floating over South Carolina.
It can be much smaller… even the size of a grain of rice. And to eavesdrop on state secrets, it doesn't need to be a gift or lazily floating across America's heartland.
The bug can easily be slipped into a vital component of a phone, a laptop, or a server. All thanks to the modern nature of our global supply chain.
China's Million Grains of Rice
Our physical world is becoming more intertwined with the digital.
And if companies like Meta Platforms (META) have their way, we'll operate in two separate realms – the metaverse and everything else.
But as technology has advanced, even our most everyday items have become increasingly complex. That means more components and more suppliers.
Take Apple's (AAPL) iPhone for instance… To produce a single unit, it requires parts from 188 different suppliers. Of those, 48 have manufacturing sites in the U.S. The rest operate overseas.
If a country – and it doesn't have to be an enemy – wants to infiltrate that supply chain, there are several potential entry points.
And this isn't hypothetical… it's already happened once, that we know of.
In 2018, the U.S. intelligence community was shocked. Chinese spies reportedly infiltrated the supply chain of an estimated 30 American companies, including Apple and Amazon (AMZN). And they didn't accomplish this with a software hack, like most of us are familiar with. They went "old school" with a hardware hack.
They allegedly inserted microchips, no bigger than a grain of rice, onto server motherboards built by Super Micro Computer (SMCI).
These motherboards are found in everything from MRI machines, big-tech data centers, Department of Defense data centers, CIA drone operations, and U.S. weapon systems, like onboard Navy warships.
In one of the most brazen and audacious "long hacks" of the modern era, China infiltrated a supplier, potentially compromising countless devices.
And today, tensions are heating up…
The $1.88 Trillion at Stake
For years, relations between China and the U.S. have cooled.
There have been tit-for-tat tariffs… There have been import and export bans… And the latest involves one of the most advanced pieces of technologies, but also the most basic necessity of our modern world: semiconductors.
Currently, the global microchip market is valued at more than $600 billion. But in less than a decade, it will more than triple in size…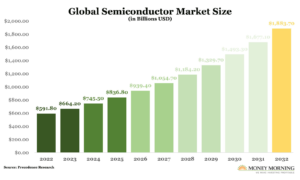 In 2022, China accounted for nearly a third of all semiconductor sales worldwide. Just think, of the 188 iPhone suppliers, 151 of them have manufacturing facilities in China. But at its doorstep is Taiwan, the leader in semiconductor production.
And with a potential $1.88 trillion annually in semiconductor sales on the horizon, China has stepped up its historical territorial claims to Taiwan. And that's put us on the path to an inevitable confrontation on the horizon… whether it's merely an economic, industrial espionage, or physical one is the question.
Our own Shah Gilani has been diligently investigating the brewing possibilities between the U.S. and China. His insights – and recommendations on how to potentially profit – can be found here.
Here's to high returns,
Matthew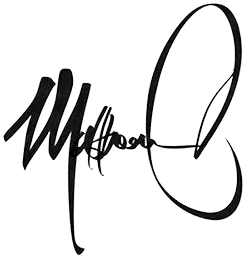 Editor-in-Chief, Chief Trend Strategist, Money Map Press