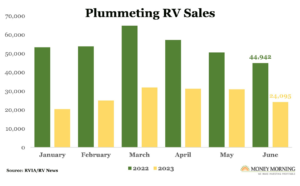 Big ticket items are the first to suffer when consumers tighten their purse strings.
And there are few big ticket items bigger than recreational vehicles (RVs)… That's truer than beyond the price tag.
Year-to-date, total RV shipments have plummeted 49.2%. And in June, RV shipments fell more than 46% year-over-year.
Companies, like Winnebago (WGO) and Thor Industries (THO) are feeling the brunt.
On June 21, Winnebago reported revenue tumbled 38.2% to $900.8 million. Its towable segment suffered the most, collapsing 52.4%.  
On June 6, Thor Industries released similarly dismal results. Third quarter revenue tanked 37.1% to $2.93 billion. And once again, North American towables were torched, sliding 57.4%.
RVs sales are not only seeing sharp drops from 2022… or even 2021. They're on pace for the lowest levels since 2015. And the last time RV sales witnessed such a steep decline was during the financial crisis from 2007 to 2009. This is one sector where a recession is already here.