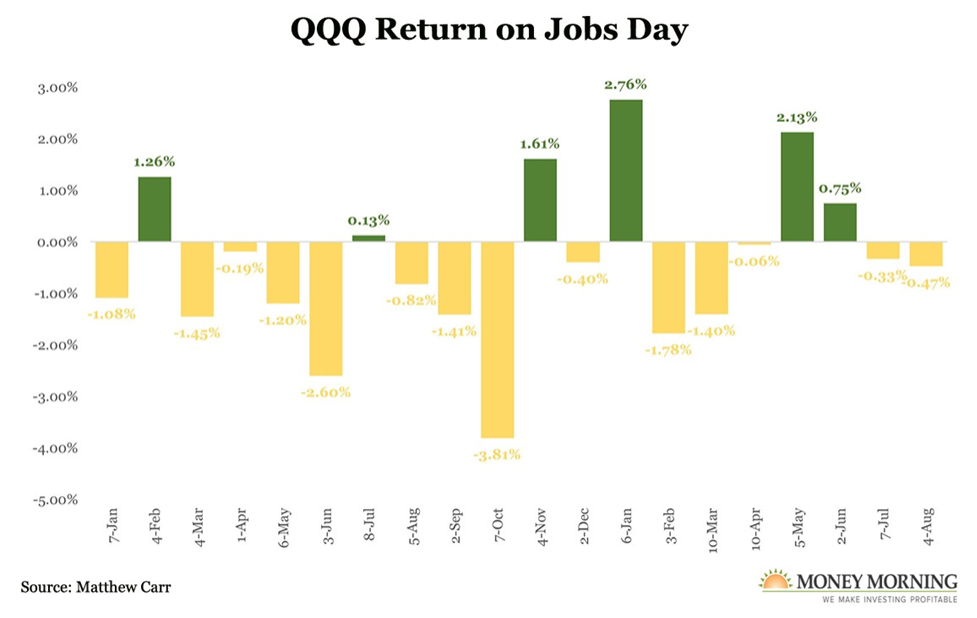 It's jobs day!
There are several vital government data releases the Federal Reserve and the markets watch like a hawk (or a dove) each month. And one of those is U.S. nonfarm payrolls, which we'll receive in roughly 60 minutes.
Unfortunately, this is a lose-lose scenario.
You see, when it comes to the Fed, the worse news the better.
The U.S. central bank has pushed key interest rates to 5.5%, their highest level in 22 years. And the only way to halt any further ascent is bad news demonstrating Americans and the economy are starting to buckle under the pressure.
But at the same time, any dramatic slowdown in hiring is evidence of a dreaded recession or hard landing on the horizon.
So, for much of the past 20 months, jobs day has been a letdown. Stubbornly, businesses keep hiring…  though the pace of that hiring continues to cool. And in turn, that's pushed the Invesco QQQ ETF (QQ) lower 14 of the last 20 jobs days.
Now, the bright side is the reaction is nowhere near as severe as it was in 2022. But the overall trend is a bummer. Even as the actual numbers have come in below expectations on three of the past five jobs days.
Expectations are for U.S. employers to have added 170,000 jobs in August. This is a steep decline from July. But a beat or a miss are both bad for the markets. Regardless, this is the true event to prepare for…