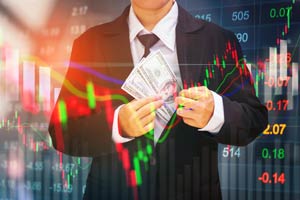 After years as one of the most successful traders with a seat on the Chicago Board of Exchange, Money Morning Capital Wave Strategist Shah Gilani went on to become a seasoned veteran of investment banks and trading houses. In his work as a hedge fund manager, he perfected the techniques of identifying the best opportunities in the markets and using precise strategies to capitalize on substantial profits.

Now, Shah helps his readers make money by teaching them how to use the same techniques. Shah has one ultimate goal: to do everything he can to make sure you're tapped into the most profit potential in 2018.

If you follow Shah's recommendations, making money in 2018 will be as easy as reaching out your hand and grabbing it. There are too many things going well for the markets for that to not be true.

Now, that's not to say that there won't be a change in the wind here and there. There will be headwinds that will slow the rally, some hot stocks will see their propellers sputter and die, and there will be moments when you'll worry your parachute won't open.

But in the grand scheme of things, momentum is an unstoppable force that will not be ignored. The factors that are adding to the momentum are greater than the factors that would slow it.

Recognizing the major investing themes that are ready to go and riding their momentum is the only way to go in 2018.

Here's what Shah predicts will move stocks in 2018, and how to capitalize on these foresights right now...