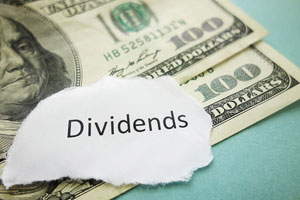 Dividend stocks are the best-kept secret of the investing world thanks to their unrivaled ability to grow your wealth with incredible ease.

The steady income from dividends each quarter (or each month, in some cases) can effectively give you a powerful "second salary." When you own $100,000 worth of stock yielding 10%, that's an extra $10,000 a year on top of the share-price gains you collect.

And reinvesting dividends can multiply your returns with little effort.

Investing $100 in the S&P 500 at the end of 1940 would have left you with $12,000 by 2012. But by reinvesting the dividends, you'd have $174,000 - 14.5 times more money. 

You can put this wealth-building power in your portfolio now. Finding the right dividends, though, involves more than just buying stocks with the highest yields.

That's why Money Morning Chief Investment Strategist Keith Fitz-Gerald put together this special investing report featuring five of the best high-yield dividend stocks to buy today.

Each of the picks in this free resource offers 10% yield or higher. Even better than their enticing yields now is the fact that each one has what it takes to sustain those sky-high yields well into the future.

One currently offers a yield of 22.1%... Another has doubled its dividend payout over the last decade... All five are trading under $20 a share and are expected to climb.

Access this exclusive report and put these double-digit dividend plays to work for you today. Before long, you'll be collecting that second salary...