Your Advisors
William Patalon III
- Money Morning - Only the News You Can Profit From.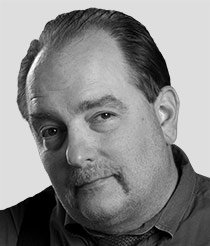 William Patalon III
William (Bill) Patalon III is the Executive Editor and Senior Research Analyst for Money Morning. Before he moved into the investment-research business in December 2005, Bill spent 22 years as a journalist, most of it covering financial news as a reporter, columnist, and editor that included stints with Gannett Co. Inc., and The Baltimore Sun.
Bill has covered finance and investing, economics, manufacturing, the defense sector, biotechnology, and telecommunications. The companies he's covered include Eastman Kodak, Xerox, Harley-Davidson, Caterpillar, Westinghouse Electric, Verizon, MedImmune, and Black & Decker.
His most-memorable interviews include: former President Richard M. Nixon, General Electric CEO John F. "Jack" Welch, Forbes magazine publisher and former Presidential candidate Steve Forbes, and business-turnaround specialist and helicopter-industry pioneer Stanley Hiller Jr.
It was Bill's work covering Eastman Kodak Co., during the last half of the 1990s that solidified his reputation as one of the nation's top analytical business journalists. With his award-winning reports on Kodak's competitive travails, he consistently scooped his competitors in the national business media. His chronicles of Kodak's turnaround efforts took him to China, Japan, Silicon Valley, New York, Washington, D.C., and even Hollywood.
His work has appeared in Kiplinger's personal finance magazine, USA Today, and The South China Morning Post, among other publications. A winner of approximately two-dozen journalism awards – including top honors from The Associated Press and the prestigious Society of American Business Editors and Writers (SABEW). Patalon is also the co-author of the Prentice Hall book, "Contrarian Investing: How to Buy and Sell When Others Won't and Make Money Doing It." Before taking over Money Morning, he served as the editor of The Rebound Report, an investment newsletter focusing on turnaround stocks.
Today Bill is the creator and editor of Private Briefing. With his latest project, he takes you "behind the scenes" of his established investment news website for a closer look at the action. Members get all the expert analysis and exclusive scoops he can't publish… and some of the most valuable picks that turn up in Bill's closed-door sessions with editors and experts.
Bill has a BA in Print Journalism from Penn State University, and an MBA in finance from the Rochester Institute of Technology.
Read, Watch & Share William
More Insights from William
William'S LATEST HEADLINES
Investing Ideas

2

Wednesday, March 13, 2019

Investors Who Stick with Boeing Are Looking at More Triple-Digit Gains

As someone who's been overwhelmingly bullish on Boeing for years (and for good reason), Bill's closely following the tragic details of the deadly Boeing 737 MAX 8 crash in Ethiopia.

The uncertainty over the safety of the MAX 8 and Boeing in general is understandable.

But with billions of dollars and priceless human lives at stake, Bill's going to share why he's every bit as bullish on Boeing today as he was last Friday...

Stocks

Wednesday, February 27, 2019

Here's What Trump's Up Against at Today's Summit with Kim in Hanoi

trading strategies

Friday, January 25, 2019

Chances Are Every Dollar You'll Make in 2019 Will Come from These

Stocks

Sunday, November 18, 2018

Our "Single-Stock Wealth Machine" Just Had Its Single Best Day Ever

Stocks to Buy

Thursday, November 8, 2018

It Was the First Stock I Ever Bought – Now It's a "Buy" for You

market crash

Wednesday, November 7, 2018

Four Simple Rules for Cleaning Up in a Market Crash

POT Stock News

Thursday, October 18, 2018

I Interviewed a "Cannabis Revolution" Micro-Cap CEO for Your Next Big Profit Opportunity

General Electric

Friday, October 5, 2018

What I Need to See from General Electric's New CEO

Biotechs

Friday, September 21, 2018

This Baby Biotech Has Lots of Running Room, Thanks to This Upcoming "Super" Drug

Best Investments Article

Saturday, September 15, 2018

Bigger Gains Ahead for Our "Single-Stock Wealth Machine"
Click here to read more stories