Editor's Note: The U.S. Federal Reserve was created in 1913 to provide a safer and more stable monetary and financial system. These days it follows a more sinister mandate, which Shah explored back in 2014. Here's what he found...
It's maddening. The divide between haves and have-nots is widening every day. There are fewer and fewer good jobs and careers to be had.
And maybe worst of all, according to a survey by the nonprofit Employee Benefit Research Institute and Greenwald & Associates, about 36% of workers have less than $1,000 in savings and investments that could be used for retirement (not counting their primary residence or defined benefit plans and traditional pensions), and 60% of workers have less than $25,000.
What the heck happened?
The U.S. Federal Reserve System is killing America. It has destroyed the economy. It has undermined savers and retirees. It is even responsible for the corruption in Congress.
We have to kill the Federal Reserve before it kills America for good.
There's nothing in the Constitution about a central bank. There's nothing "free market" about a central bank. There's no reason for a central bank - with omnipotent power over the creation of money and credit, over employment (which is an absolute joke), over the entire economy, and over Congress - to exist. No reason.
Okay, there is one reason...
The Only Reason the Federal Reserve Exists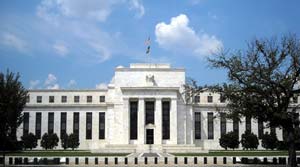 The Federal Reserve, America's central bank, exists to serve big banks and Wall Street.
There is no other reason for the existence of the Fed. None.
Central banks exist to backstop banks. They were all created by bankers to serve them.
When banks get into financial trouble (for any number of reasons, all of them having to do with their bad management and greed), if there is no backstopping angel with unlimited (completely made up out of thin air) resources to bail them out, they would shut down.
And they should shut down. Sure, there would be losses. Equity owners would lose, creditors would lose, and some depositors would lose money, too, if they aren't covered by FDIC insurance.
But if banks were allowed to fail, given they were each, on their own, insignificant enough to the financial system - to the whole economy - that they could fail without doing economic damage, they should be allowed to fail. Small banks are still allowed to fail based on this exact principle.
Free Book: The secrets in this book helped one Money Morning reader make a $185,253 profit in just eight days. Learn how to claim your copy here...
But clever bankers, the masters of the biggest banks in any system (in the United States it was a group of the most powerful banks in America and allied banking interests in Europe in 1913), figured something out - and the result has been profound.
They figured out that if they got so big that any one of their failures would result in contagion and undermine the financial system and the economy, then they could convince governments to create central banks to safeguard systems and economies.
The Federal Reserve was legislated into existence in 1913 precisely to backstop America's biggest banks. The history of exactly how the Fed came about and who was involved in the secret meetings at J.P. Morgan's private island to design the "System" (they didn't use the term bank because they wanted to imply a safety "system" and not raise the ire of the public, who were fearful and skeptical of the big banks that were already running the country) is one of America's greatest cloak-and-dagger stories.
The true tale is laid bare in an extraordinarily well-researched and documented book "The Creature from Jekyll Island" by G. Edward Griffin. Read it.
Without getting into the weeds on how it mechanically does it, it's instructive enough to know what the Federal Reserve does. In a nutshell, all its "regulatory" duties aside, the Fed prints money and gives it to banks.
That's right, the Fed - not the U.S. Treasury - creates dollars. The Treasury actually prints dollars and mints coins, but it only does enough of that to keep a certain amount of currency in circulation. The creation of money comes from the Federal Reserve System.
Look at your dollars, any of the bills in your wallet. They don't technically belong to the Treasury. They say right up top: "Federal Reserve Note." It's Federal Reserve money. But the Fed doesn't have to have the Treasury print money to give it to banks. It just credits banks electronically. And, like magic, banks have money when they need it.
Here's How the Fed Is Killing America
Join the conversation. Click here to jump to comments…
About the Author
Shah Gilani boasts a financial pedigree unlike any other. He ran his first hedge fund in 1982 from his seat on the floor of the Chicago Board of Options Exchange. When options on the Standard & Poor's 100 began trading on March 11, 1983, Shah worked in "the pit" as a market maker.
The work he did laid the foundation for what would later become the VIX - to this day one of the most widely used indicators worldwide. After leaving Chicago to run the futures and options division of the British banking giant Lloyd's TSB, Shah moved up to Roosevelt & Cross Inc., an old-line New York boutique firm. There he originated and ran a packaged fixed-income trading desk, and established that company's "listed" and OTC trading desks.
Shah founded a second hedge fund in 1999, which he ran until 2003.
Shah's vast network of contacts includes the biggest players on Wall Street and in international finance. These contacts give him the real story - when others only get what the investment banks want them to see.
Today, as editor of Hyperdrive Portfolio, Shah presents his legion of subscribers with massive profit opportunities that result from paradigm shifts in the way we work, play, and live.
Shah is a frequent guest on CNBC, Forbes, and MarketWatch, and you can catch him every week on Fox Business's Varney & Co.