Editor's Note: Savvy investors are always looking for new paths to profits – but there is one strategy that will only ever undercut your gain potential. Keith first shared this warning back in 2014, and his insight is just as critical today. Take a look…
My mission and vision at Total Wealth is to help you uncover tremendous wealth-building opportunities through our six unstoppable trends, maximize your profits with the best trading tactics, and (perhaps most importantly) protect what you have.
Today I want to keep that promise by talking about investing strategies.
Many investors think they have this covered but, in reality, the savviest investors are always on the hunt to learn new tactics in the pursuit of profits. Like a chef who discovers new ingredients, they are constantly improving the "recipes" they use for success.
Before we start, though, I need you to make me a promise: that you will NEVER use this one trading tactic we're going to talk about today.
Ironically, this is one tactic that comes naturally to all of us and is a mainstay investment principle used by 99% of the population.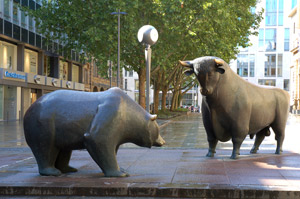 But it undercuts everything else you do as an investor.
I'll be right up front. What I'm about to say may make you uncomfortable. Believe me, I get it. I'm hesitant to bring this up because it could easily be taken out of context.
But I will anyway for one simple reason – because if you understand the implications of what Wall Street doesn't say about this tactic, then you can better interpret what it does say and, more importantly, use that information to create bigger profits. And you will never hear this from Wall Street or your broker… because it's not in their interest to share it with you.
The Worst Investing Strategy Revealed
Back in 2006 I came across a study in Psychological Science that was as profound as it was politically incorrect, at least on the surface, anyway.
The implications are pretty striking, so you'd think Wall Street would be all over it but, sadly, they're not. (Given that they're out for their own interests, that's no real surprise.) I've only seen it mentioned once in the years since, by Ric Edelman, chief executive officer of Edelman Financial.
At 313% average weekly gains (including partial closeouts), this strategy is leaving Wall Street Elite in the dust. Space is limited, so you'll have to act fast for your chance at triple-digit gains…
Here's what it says.
Researchers at three major universities – Stanford, Carnegie Mellon, and the University of Iowa – published findings showing that brain-damaged individuals made better investment decisions than the rest of us.
To be precise, what they studied was the impact of injuries that prevented the brains of the injured from processing emotional stimuli and, by implication, responses to those specific inputs.
Researchers found that when they compared the findings to folks with no brain damage, the "injured" individuals made significantly better investment decisions.
That's because the human brain is wired to evaluate economic and investing information using connections and pathways that are closely linked to emotional inputs. You'd think this kind of decision-making would involve logical brain pathways, but that's not true.
This is why making decisions with your money can be very challenging, especially when the markets are complicated and the investing landscape emotionally charged, like it is right now. Because you are taking what should be a logical decision and using emotional receptors to make it.
It's also why Wall Street wants you to believe money is complicated and why their ads are so slick. Unlike the average individual investor, the Big Boys have spent billions understanding what makes your mind work and how specific inputs prompt specific actions on your part – chief among which is commission-generating buying and selling activity that's worth $18 billion or more a year to the top 25 firms.
They know that if you're happy, then you're generally going to be a buyer, and that if you're sad or fearful, you'll be a seller. And usually at precisely the wrong time, I might add.
The result is tremendous underperformance that gets dramatically worse over time.
The latest DALBAR data shows that the average investor earned only 5.02% yearly over 20 years versus the S&P 500, which turned in an average 9.22% annually over the same time frame.
Now you may be tempted to dismiss this result as being abnormal because of the financial crisis, but it's not. Investors who fall prey to emotional decision-making fell far behind, even during one of the biggest bull markets in recorded history off the March 2009 lows.
Take a look…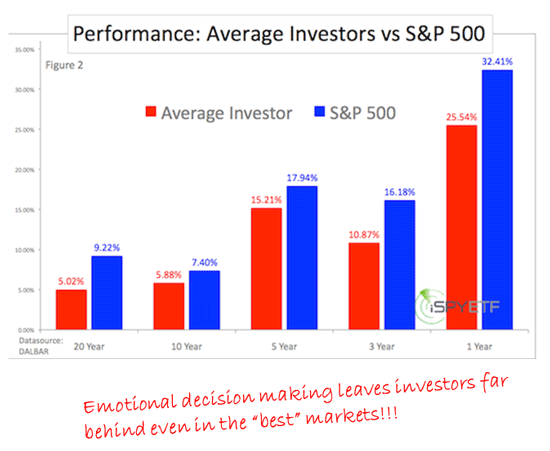 Again, this is an uncomfortable subject for a lot of investors.
Many of my own subscribers thought I'd lost my marbles when I told them in 2007 to batten down the hatches at a time when they wanted to chase performance. On the way down, those who followed along with my recommendations had the opportunity to enjoy returns like the 101.68% we captured in iShares MSCI Brazil Capped ETF (NYSE Arca: EWZ) and 83.33% from iShares China Large-Cap ETF (NYSE Arca: FXI).
The same thing happened in March 2009 when I told them that it was time to buy. On the way up, those same subscribers had the opportunity to capture a slew of double- and triple-digit winners like CNH Industrial NV (NYSE: CNHI), Navios Maritime Holdings Inc. (NYSE: NM), and ABB Ltd. (NYSE ADR: ABB), which we closed out at 104.43%, 104.05%, and 103.12% in three trades, respectively.
So how do you do the same thing?
Join the conversation. Click here to jump to comments…
About the Author
Keith Fitz-Gerald has been the Chief Investment Strategist for the Money Morning team since 2007. He's a seasoned market analyst with decades of experience, and a highly accurate track record. Keith regularly travels the world in search of investment opportunities others don't yet see or understand. In addition to heading The Money Map Report, Keith runs High Velocity Profits, which aims to get in, target gains, and get out clean, and he's also the founding editor of Straight Line Profits, a service devoted to revealing the "dark side" of Wall Street... In his weekly Total Wealth, Keith has broken down his 30-plus years of success into three parts: Trends, Risk Assessment, and Tactics – meaning the exact techniques for making money. Sign up is free at totalwealthresearch.com.