Editor's Note: When you understand your tech investing personality, you can tailor your strategy to better match your goals – and keep watch for the pitfalls you're most likely to fall into. With a new investing year around the corner, now's the perfect time to check out Michael's breakdown of the five main tech investing "types" below. Here's Michael…
In Plato's "Republic," protagonist Socrates takes the Delphic aphorism "know thyself" as his personal motto.
It's a great motto… especially for investors.
As a market veteran of many years, I can tell you that this is one of the biggest weaknesses most investors have.
They don't know themselves…
I watch as folks take losses and miss out on profits – mistakes they could have easily avoided if they'd only taken the time to know their investing personalities just a little bit better.
So today I want to demonstrate how to transform yourself into the "Socrates of tech investing."
It's easier than you'd think.
And the profits you'll reap will make it well worth your time…
One Simple Test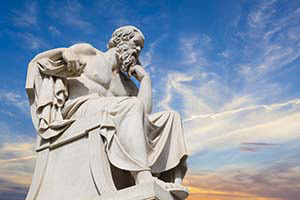 The whole "know thyself" philosophy is the basis of modern psychotherapy. In that realm, knowing yourself can involve quite a bit of sophisticated analysis and testing.
But we're not talking about "inkblot tests" here.
Indeed, when it comes to investing, knowing thyself can be a pretty straightforward endeavor.
Breaking: California's impending marijuana legalization could deliver unprecedented windfall profits – get in on the ground floor for the best shot at life-altering gains. Learn how here…
Here, in fact, I've narrowed this effort down to the five main tech investing "types" or personalities. I've related them to the five rules in Your Tech Wealth Blueprint. And once you've identified your type, I've also showed you how to avoid the pitfalls that are inherent with your particular investing personality.
When we're done here, you'll "know thyself." And you'll be ready to benefit.
Tech Investor Personality No. 1: The Race Car Driver
The Race Car Driver is someone who wants to profit from companies with above-average growth in sales, earnings, and cash flow. For this growth-investor type, those three financial categories are much more important than the stock's sticker price.
If you're a Race Car Driver investor, you're more than willing to pay a premium for growth as measured by key metrics. For instance, you probably won't mind paying 40 times forward earnings when the overall market trades at just 15 times next year's profits.
For this type of growth investor, paying five times book value (P/BV) or sales (P/S) is just fine – even though the general "rule of thumb" is a maximum of two times. The reason: Race Car Drivers are looking for firms that grow their earnings by 25% to 40% a year. With growth like that, a company's stock could double in as little as 18 months.
The Know-Thyself Risk: With a stock like this, the danger is quite clear: If it misses the expected earnings target by as little as a penny, the share price will get a "haircut."
A way to manage that risk is to follow my Tech Wealth Rule No. 4: Focus on Growth. When I first told you about my rules, I said that focusing on growth means you have to sleuth out firms that have strong fundamentals.
Good candidates are companies that have demonstrated consistent double-digit sales growth. That way, when the company's breakthrough technology finally achieves its potential, all that cash flow will fall to the bottom line.
Tech Investor Personality No. 2: The Banker
Join the conversation. Click here to jump to comments…
About the Author
Michael A. Robinson is one of the top financial analysts working today. His book "Overdrawn: The Bailout of American Savings" was a prescient look at the anatomy of the nation's S&L crisis, long before the word "bailout" became part of our daily lexicon. He's a Pulitzer Prize-nominated writer and reporter, lauded by the Columbia Journalism Review for his aggressive style. His 30-year track record as a leading tech analyst has garnered him rave reviews, too. Today he is the editor of the monthly tech investing newsletter Nova-X Report as well as Radical Technology Profits, where he covers truly radical technologies – ones that have the power to sweep across the globe and change the very fabric of our lives – and profit opportunities they give rise to. He also explores "what's next" in the tech investing world at Strategic Tech Investor.