Thanksgiving in the Barton house is all about gratitude. We're thankful for such a wide range of blessings - time with family and friends, delicious food, and yes, even a little football.
But once Thanksgiving is over, aside from a glance or two at a smartphone or laptop, no one even considers venturing out into Black Friday. As one of only two states east of the Mississippi that doesn't have sales tax (New Hampshire is the other), Delaware malls and stores in general get overrun on big shopping days. The Bartons avoid that fray - but thousands of others jump right in...
As do millions more all around the country. Americans spent $4.2 billion at online sales alone on Thanksgiving Day, and another $7.4 billion on Black Friday. That second number alone is up 19.6% from last year's Black Friday.
I certainly can't fault the retailers for putting on those sales. For them, Thanksgiving, Black Friday, and the weekend after can make or break their whole year.
The five days from Thanksgiving Day through Cyber Monday are the highpoint of the holiday shopping months of November and December. And just those two months make up between 20% and 30% of annual sales for American retailers.
So with Cyber Monday now behind us, you'd think the news would tell you which retailers did well, which didn't, and most importantly, what you should do about it.
But the front pages have nothing to help you with your finances. For them it's page five news. You'd have to dig through page after page to even get a whiff of that.
This year, that's even more unfortunate, because this Black Friday was like nothing we'd seen before.
There's been lots of talk lately about the potential for a weakening U.S. economy. It seems someone forgot to tell American consumers, because sales this past weekend broke records once again.
On Cyber Monday, Americans spent another $9.2 billion online, up 16.9% from 2018.
In other words, online retailers had a great holiday.
Or rather, some of them did. But the winners and losers this year were quite surprising.
I've analyzed the early reports and crunched the numbers to bring you what the media doesn't seem too interested in...
Here are the best retail stocks to trade, and which ones to avoid, this December...
Shopping Season's Real Winners
For us as traders, one of the key advantages of retail moving online is the increase in data, and how fast we get it.
Even over the weekend, we already had a pretty good picture of what Black Friday looked like for online retailers.
And the numbers are staggering. Take a look at this chart from Edison Trends, which shows the change in total online Thanksgiving and Black Friday sales for America's biggest retailers: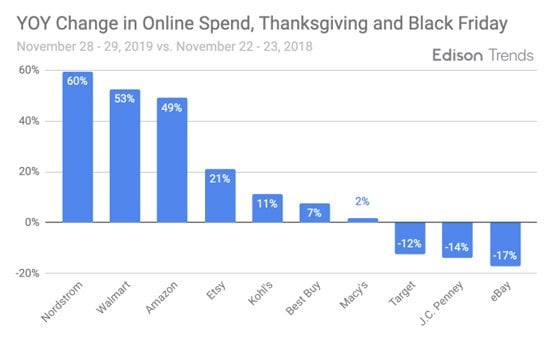 Let's deal with the elephant in the room first: Amazon.com Inc. (NASDAQ: AMZN). Somehow, against all expectations, the online retail giant managed to grow its Thanksgiving and Black Friday sales by almost 50% from last year.
If you're wondering who in the world was buying on Amazon this year that didn't already do it last year, you're not alone. The ability of Amazon to execute so well it's almost hard to believe continues to amaze.
There's a reason the company crushed all but the strongest competitors in the retail industry.
Now, I've been bullish on Amazon for a long time. This data shows that the company continues to execute extremely well, and hasn't lost its edge. Its stock has underperformed in the last two quarters, but I expect it to play catch-up in the coming months.
And as this next chart shows, Amazon's sales didn't increase only because there were more customers. The average person also spent more money on Amazon than last year, although not by as much as at some of its competitors: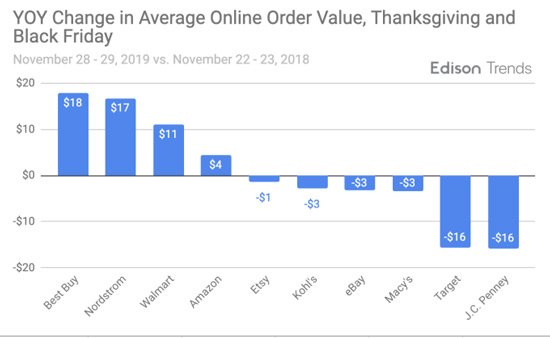 With such a strong showing from an already incredibly successful business, I recommend you buy a new stake in Amazon if you haven't already, or add to your existing holdings going into the end of the year.
And there's another retail behemoth that showed similar results to Amazon...
Walmart Inc. (NYSE: WMT) disclosed total Black Friday sales were up 53% from last year, and the average person spent $11 more than in 2018.
These numbers are astonishingly positive, and show that Walmart's strategy to take on Amazon through a combination of online plus brick and mortar sales is working. Granted, Walmart's online sales started at a much lower level than Amazon's, but the growth is still impressive.
Walmart is playing catch up here, and while it's working, they still have ways to go. Not a bad position to enter before the end of the year either.
As is the next company we'll look at...
A Resilient Retailer That Beat Expectations
[mmpazkzone name="in-story" network="9794" site="307044" id="137008" type="4"]
Unlike the retail behemoths Amazon and Walmart, which are outgunning everyone else, Best Buy Co. Inc. (NYSE: BBY) had what I'd call a decent Black Friday. Total sales were up just 7%, although the average person spent $18 more than last year, best among retail's top performers this year.
But if you believed the critics, you'd think Best Buy's Thanksgiving sales would have collapsed.
Pundits have told us over and over that Big Box stores are doomed, especially one focusing on electronics like Best Buy. Instead, their stock price is all-time highs and they've orchestrated modest online sales growth as well.
Which shouldn't really come as a surprise. Best Buy is now one of the few places left where shoppers can touch and test electronics before buying them. Especially for more expensive products, that is still key - and something Amazon can't provide.
In short, Best Buy continues to defy the critics, and has carved out a retail niche where it executes well.
Best Buy is a great stock to buy right now, at the right price. I'd wait for a pullback to $77.50 before entering a position.
Now that we've covered the "haves" - the retail winners - let's talk about the retail "have nots" - losers of this year's Black Friday...
Underperformers to Leave Out of Your Cart
The usual suspects did poorly this year, chief among them J. C. Penney Co. Inc. (NYSE: JCP) and Macy's Inc. (NYSE: M). Enough ink has been spilled about why these once-dominant department stores are on their way out, so I won't bore you with the details.
Suffice it to say this Thanksgiving shopping weekend is just another sign that you should do your best to avoid their stock. They're a lost cause.
But looking at the online sales growth chart above, you may think that another struggling department store is making an amazing comeback - Nordstrom Inc. (JWN). After all, its total sales were up a whopping 60% from last year, and the average person spent $17 more.
These numbers are amazing...
Or rather, they would be, if not for where Nordstrom was last year.
The company itself admitted its 2018 Black Friday sales were "below expectations" by such a margin that it had to run more sales the following January to clear its inventory. The full numbers were so bad that when the company released them on January 16, Nordstrom's shares dropped 7%.
Now, when you start at rock bottom, growing sales is easier. But don't be fooled. Nordstrom is not making a comeback here.
It's just not having quite as horrible a year as it did in 2018. While I wouldn't short the stock, I certainly wouldn't buy it, either.
Another surprise this year is Target Corp. (NYSE: TGT), which has been outperforming all year. Unfortunately, that did not carry over into Black Friday, as both total sales and average spending fell from last year.
This is especially surprising given Target's push for online sales with in-store pickup this year. 43% more Americans chose that option this year than last.
But Target's bad performance here may just be a one-off. The company was running sales and discounts all November, and may simply have captured some Black Friday shoppers earlier. Investors didn't react negatively, and the outlook for Target this holiday season as a whole remains positive. I like TGT stock, and they have proven themselves a worthy #3 behind AMZN and WMT. But this is a big caution flag, so leave TGT stock on the shelf for now.
With six fewer shopping days between Thanksgiving and Christmas this year, retailers have their work cut out for them. But you can be sure that I'll be right here with you, to cut through the noise and distractions to help you profitably navigate the retail "haves" and "have nots".
Let me know what you think, as well as what questions you may have, in the comments below.
This Fast Money Move Could Make You $4,238
America's No.1 Pattern Trader is going live on camera to show readers how they can make hundreds, even thousands, of dollars in extra income.
You see, he's found a way to predict the future buying patterns of nearly every stock on the market. And with this trick, he's lining up major payday appointments left and right.
We're talking about cashing in on some of the biggest stocks on the market: Netflix, Apple, Facebook, even Amazon.
The best part is this options trading strategy is super easy to understand and even easier to put into action.
All it takes is three simple steps, a few clicks of your mouse, and you're on your way to what could be life-changing wealth...
Click here to see how he does it.
The post What You Didn't Hear About Black Friday Could Cost You Big Profits appeared first on 10 Minute Millionaire.
Follow Money Morning on Facebook and Twitter.
About the Author
D.R. Barton, Jr., Technical Trading Specialist for Money Map Press, is a world-renowned authority on technical trading with 25 years of experience. He spent the first part of his career as a chemical engineer with DuPont. During this time, he researched and developed the trading secrets that led to his first successful research service. Thanks to the wealth he was able to create for himself and his followers, D.R. retired early to pursue his passion for investing and showing fellow investors how to build toward financial freedom.