Imprinted on the cover of "The Hitchhiker's Guide to the Galaxy" – the fictional "standard repository for all knowledge and wisdom" in the comedic sci-fi series of the same name by Douglas Adams – is the phrase "Don't Panic."
Arthur C. Clarke ("2001: A Space Odyssey", "Rendezvous with Rama"), a British science-fiction author even more renowned than Adams, called it the "best advice" that could be given to humanity.
He was right.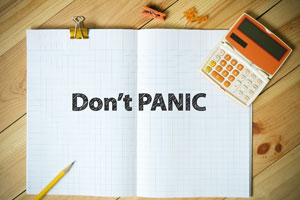 That's why the same sentiment is behind Rule No. 2 of our five-part investing system, which says to "separate the signal from the noise."
And I hope you followed that rule back in the summer of 2015, when it seemed like all of Wall Street and Silicon Valley were panicked over Apple Inc. (Nasdaq: AAPL).
At the time, the so-called "experts" said the sun was about to set on the world's most valuable tech franchise – and fled its stock in droves.
However, if you followed along here and combined our tech wealth-building strategies when it came to Apple, then you're sitting on some huge gains.
If you're new around here, you can do the same thing.
Entirely Like a Huge Fortune
As someone who's followed Apple for more than 30 years, I was stunned by the number of analysts and investors alike who shunned the Silicon Valley legend a few years back.
But if you'd been following along with me here, you wouldn't have been surprised last week when Apple reported record sales.
And you would have already picked up shares at a discount…
Apple's big rebound proves the power of two of the key investing themes at Strategic Tech Investor.
The first is Rule No. 2. The other is our Cowboy Split buying system designed to turn market overreactions into cash in the bank.
And today, I'm going to show you just how to combine these two tools so you, too, can rack up consistent market-crushing gains…
Now then, you should probably know that I am still considered one of the biggest Apple bulls around. Indeed, I got quite a bit of notoriety back in early 2014 when I became the first analyst to predict that Apple shares would go to $1,000.
I put that price tag on before the stock split 7-to-1 in June 2014 for an adjusted price of $142.85. My target date was Labor Day 2016.
How did I do?
Pretty Close
The stock got within $8.31 of my forecast on April 28, 2015, before then selling off.
Yes, my ego took a slight hit. However, I stand by my price target, though it will clearly take Apple longer to get there than I first thought.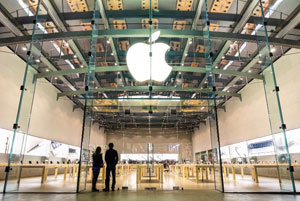 I believe much of the "delay" we're seeing is because of Wall Street's "noise." One analyst after another opined that, under CEO Tim Cook, Apple is no longer an innovative firm.
To make that statement shows a lack of knowledge about Apple's histo…
Join the conversation. Click here to jump to comments…
About the Author
Michael A. Robinson is one of the top financial analysts working today. His book "Overdrawn: The Bailout of American Savings" was a prescient look at the anatomy of the nation's S&L crisis, long before the word "bailout" became part of our daily lexicon. He's a Pulitzer Prize-nominated writer and reporter, lauded by the Columbia Journalism Review for his aggressive style. His 30-year track record as a leading tech analyst has garnered him rave reviews, too. Today he is the editor of the monthly tech investing newsletter Nova-X Report as well as Radical Technology Profits, where he covers truly radical technologies – ones that have the power to sweep across the globe and change the very fabric of our lives – and profit opportunities they give rise to. He also explores "what's next" in the tech investing world at Strategic Tech Investor.