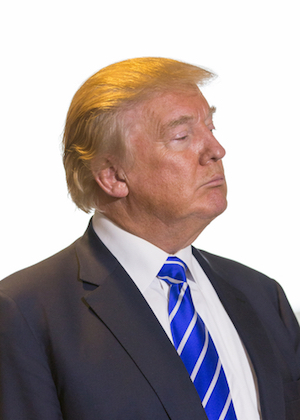 A surprising turn of events on Tuesday night has investors worried about a 2017 stock market crash after Donald Trump won the presidency.
There were already fears the election could cause a stock market crash in 2016 before voting started on Tuesday. Earlier this week, Money Morning Global Credit Strategist Michael Lewitt said if Trump won, "equities could sell-off sharply as investors wrestle with an outcome that was not priced in to the market."
This is precisely what has happened as Donald Trump's upset victory has sent markets into a panic.
Both the Nasdaq and S&P 500 futures dropped nearly 5% overnight before settling at a 1% loss for the S&P 500 and a 1.5% loss for the Nasdaq. They have since stabilized, both up 1% in early afternoon trading. And that volatility should remain.
The price of gold has jumped nearly 2% since Tuesday.
Now that the election is over, and the markets are so volatile, here's what investors need to know about the possibility of a stock market crash...
Risks of a Stock Market Crash Rising Under Trump Presidency
There are several reasons the market is fearful of a Trump presidency.
First, Trump has openly criticized the Fed.
Don't Miss: This is your ticket to bigger and better returns... and it won't cost you a penny. What are you waiting for? Read more... 
Trump has said "we have a Fed that's doing political things - this Janet Yellen of the Fed" and that Yellen "should be ashamed of herself."
Trump has said he would replace Yellen when her term ends in 2018. But Paul Ashworth, Capital Economics' chief U.S. economist, says that Trump's remarks about Yellen means "Fed Chair Janet Yellen would resign almost immediately" after a Trump victory.
Interest rates are expected to be raised during the next Fed meeting in December. Now, the actions of the Fed have become much more unclear.
Second, Trump's victory has introduced uncertainty into the markets.
Chris Krueger, a policy analyst at Cowen and Co., says with Trump, uncertainty "is what you get almost by definition."
The main reason for this uncertainty is Trump's campaign largely centered on ending free-trade agreements. For example, Trump wants to end NAFTA, a deal between two of the U.S.'s top three trade partners in Canada and Mexico.
The Mexican peso dropped 13% against the U.S. dollar in the early hours of Wednesday, as investors worry Trump's policies will hurt trade between the countries.
Plus, Trump has attacked China, the U.S.' second-largest partner, as a "currency manipulator" who he won't allow to continue to "rape our country" through trade.
The Peterson Institute of International Economics says Trump's protectionist policies could cost the United States 4 million jobs.
Third, Trump will have a Congress controlled by one party.
Money Morning Chief Investment Strategist Keith Fitz-Gerald points out stocks have historically done better when Congress is split between two parties. When one party controls Congress, Fitz-Gerald says investments "tend to do worse."
With Trump's victory, Republicans will control the presidency and both houses of Congress. This means there will be little resistance to Trump's policy proposals.
While there are definite warning signs of a possible 2017 stock market crash, investors shouldn't panic. Smart investors can protect their money during a financial crisis. Here's what you need to know now...
How to Protect Your Money During a Stock Market Crash