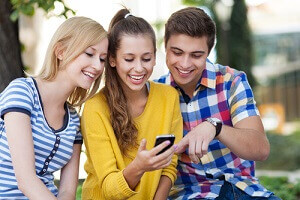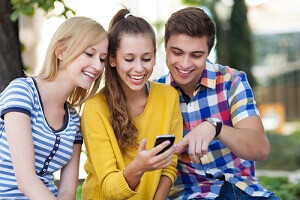 Wall Street completely missed it, but the FB stock price just received a major catalyst on Aug. 19 when the company released Lifestage. It's an app that allows high school students to connect and share information with their classmates.
In the three days following the launch of Lifestage, it went from the 435th most-downloaded social network app for iPhones in the United States to the 111th most-downloaded. That's according to app stat provider App Annie.
And Lifestage is just one reason why the FB stock price will skyrocket and reach our massive price target by 2020.
Before we get to our Facebook Inc. (Nasdaq: FB) price target, here's what investors need to know about Lifestage.
According to Tech Crunch, the new social media network mimics how Facebook was first started, launching school by school. Lifestage only shows users other people using the app when 20 people from a high school are using it.
While the creation of the app may seem sudden, it's part of CEO Mark Zuckerberg's plan to undercut his competition.
Lifestage works like a combination of Snapchat and Facebook, which will appeal to a younger generation. Instead of filling out text information like with a Facebook bio, Lifestage users shoot videos to show their likes, dislikes, mood, and other information they want to share.
The video-sharing is just like Snapchat.
Trending: The Spotify IPO Has a Growing $57 Million Problem
Zuckerberg could eventually monetize Lifestage through ads, as he's had massive success so far monetizing Instagram. Analysts project that Instagram brought in as much as $750 million in revenue in 2015.
But there's another long-term benefit from Lifestage that will help the FB stock price continue to climb…
You see, Lifestage can provide Zuckerberg with real-time data on how to use video to attract even more users to Facebook, Instagram, and Messenger. He will know exactly how long Lifestage users are on the app, what features are used the most, and how Lifestage success can transfer to other platforms.
That means he keeps perfecting all of Facebook's services. Better services mean more users, which means advertisers spend more money on Facebook ads.
However, some investors are still skeptical of buying into the Facebook stock price right now, because it's trading near all-time highs. But they shouldn't be, because the FB stock price could climb as much as 97% in less than four years. Here's why…
Here's Why the FB Stock Price Will Reach Our Massive Price Target    
As the chart below indicates, analysts have been steadily increasing their price targets for FB stock. They now have a one-year price target of $153.98, but we see even more gains ahead…
According to Money Morning Director of Tech & Venture Capital Michael A. Robinson, those price targets are too conservative. In fact, he projects the FB stock price will trade for $250 per share by 2020.
In less than four years, that's a potential profit of 97%.
Along with the potential revenue and data insight from Lifestage, the FB stock price will climb another 97% because of three massive revenue sources:
Instagram
WhatsApp/Messenger
Oculus VR
In 2012, Instagram only had 30 million users and didn't make money. Today, the picture app boasts 500 million monthly active users, a 1,566% increase in users in just four years. Analysts believe that Instagram brought in as much as $750 million in revenue last year, and eMarketer projects Instagram could account for 10% of Facebook's global revenue by 2017.
And even though messaging platforms WhatsApp and Messenger aren't bringing in money now, the future revenue from these services is going to be massive…
With Messenger, users can order food, send money to family and friends, and even book hotels right through the app. Similar features could be extended to WhatsApp, which is used right now for mobile messaging free of SMS fees.
By 2020, analysts at Deutsche Bank AG (NYSE: DB) project WhatsApp and Messenger could generate as much as $10 billion combined in annual revenue.
Editor's Note: This market could grow 33% a year for the next decade…
And outside of Instagram and the messaging services, Zuckerberg is ensuring future profitability for Facebook through virtual reality.
Zuckerberg purchased Oculus VR in 2014 for $2 billion. It's true that virtual reality (VR) is mostly used for games right now, but the VR industry will be worth billions by 2020.
Market intelligence firm Tractice projects sales from VR head-mounted displays, content, and accessories will total $21.8 billion.
Combined with Lifestage, these services are profit powerhouses that will drive the FB stock price to $250 per share.
But as we mentioned earlier, the FB stock price is trading at all-time highs, which can be off-putting for some investors.
Even though Facebook stock is one of Money Morning's top picks, investors who are concerned about "overpaying" can use a strategy from Robinson to feel more comfortable about adding FB stock to their portfolios.
"A good way around that is to put in a lowball limit order to grab it on a pullback," Robinson told me on Aug. 19. "FB has not traded below the 30-day moving average since July 6. So, you set an entry price there and hope it fills."
The Bottom Line: The FB stock price is trading at all-time highs, but we expect plenty of future gains from the tech giant. Through the new Lifestage app, CEO Mark Zuckerberg has created a new platform for potential monetization, as well as a valuable data source to help improve all of Facebook's products. Because of Zuckerberg's visionary leadership, we see Facebook stock climbing another 97% by 2020.
Next Up: Investing in This Top Tech Trend Is the Best Way to Get Rich Now
Follow us on Twitter @moneymorning and like us on Facebook.