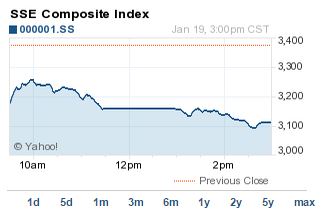 China's stock market crash today (Monday) was the worst since June 10, 2008. Chinese stocks fell 7.7% after regulators barred three firms from trading.
The regulatory move was "a nasty surprise," Hong Hao, a strategist at Bank of Communications, wrote in a note Monday.
The financials sub-index tumbled 9.6%. All 14 banking stocks slumped by their 10% daily limit.
Here's why it happened...
Why China's Market Crashed: The China Securities Regulatory Commission (CSRC) Monday disciplined three major brokers for violating rules on margin lending today.
Margin lending surged 196% in 2014 to just over 1 trillion yuan ($160 billion). It was up another 9% in the first two weeks of 2015. As of Friday, the country's margin lending total hit a whopping $1.1 trillion yuan, or $177 billion.
Increased lending helped with the 53% surge in China's stock market last year. The CSRC warned investors in late 2014 not to chase the market rally.
"The government wants to keep the leverage risk of margin financing under control," Caroline Maurer, a fund manager at Henderson Global Investors, told The Wall Street Journal. Following the market's rapid rise over the last three months, "there has been tremendous short-term profit-taking pressure."
Money Morning Chief Investment Strategist Keith Fitz-Gerald discusses how the Chinese stock market sell-off will affect U.S. investors on FOX Business' "Varney & Co."
The CSRC, between Dec. 15 and Dec. 28 last year, launched investigations into margin trading of 45 brokerages. The investigation led to regulators barring three firms from adding margin-finance and securities lending accounts for three months. The firms in question: Citic Securities, Haitong Securities, and Guotai Junan Securities - China's three largest by assets.
The CSRC said on its microblog that it suspended the firms because they let customers delay repaying financing for longer than they were supposed to. No additional details were provided.
Regulators punished nine other brokerages for offenses, including allowing unqualified investors to open margin-trading accounts.
The Debt Pile Behind China's Stock Market Crash
China has been quickly bulking up debt ever since the financial crisis of 2008. Local governments have borrowed heavily to fund infrastructure projects. And property developers have used piles of debt to revive their businesses.
However, it's individuals' mountains of debt that sparked concerns. These small investors fuel markets higher. They have the most to lose when the stock market reverses and they are caught overleveraged.