Disney's new Star Wars installment, "The Force Awakens," has already broken pre-sales records in the United States, and it will be a major catalyst for the Disney stock price (NYSE: DIS) in 2016.
"The Force Awakens" sold a whopping $100 million worth of pre-sales tickets before its Dec. 18 debut, according to Variety.
To put that in perspective, that's 20% more than "Jurassic World's" pre-sales, which currently holds the record for the third highest-grossing film in history, behind "Titanic," according to Variety.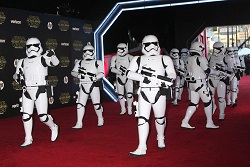 "Disney has so many good things going on with Star Wars," Money Morning Technical Trading Specialist D.R. Barton told CNBC on Dec. 14.
While Disney stock is receiving a lot of hype now, the excitement is justified. Disney is monetizing the Star Wars franchise in every way possible. And much of the hype will translate into outstanding box-office sales for Disney.
Morgan Stanley estimates "The Force Awakens" will generate $2 billion in ticket revenue. Rotten Tomatoes, a movie critic website notorious for tough reviews, gave the movie a 94% rating. With two more Star Wars movie installments on the way, Disney has the potential to build the Star Wars brand into something bigger than ever before.
But ticket sales are just one of the huge profit drivers that will boost the Disney stock price heading into 2016...