As pressure to raise the federal minimum wage increases, the U.S. companies with the most minimum wage workers - primarily retailers, restaurant chains, grocery chains, and hotel chains - will need to plan for possible changes.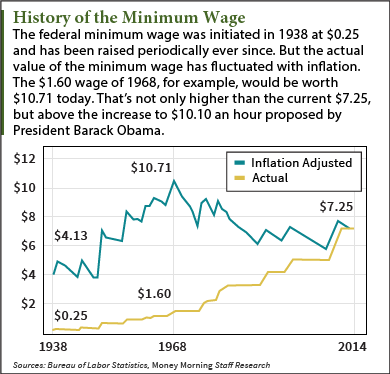 Some companies are acting pre-emptively. Clothing retailer The Gap Inc. (NYSE: GPS) announced today (Thursday) that it plans to increase its wages to $10 an hour by next year, a change that will affect 65,000 workers.
The current federal minimum wage is $7.25 an hour.
The Gap, which operates such chains as Banana Republic and Old Navy, said it will raise wages to $9 this year and to $10 next year.
The latter figure is suspiciously close to the $10.10 an hour that U.S. President Barack Obama has made his target for the minimum wage. Should Congress act, The Gap will already have the change built in to its business plan.
And then there's Costco Wholesale Corp. (Nasdaq: COST), which favors a higher minimum wage because it will increase costs for rivals. Costco pays its employees a comparatively generous $11.50 an hour to start; average wages are nearly $21.
Other companies that would be affected by a minimum wage increase are mulling their options.
Wal-Mart Stores Inc. (NYSE: WMT) - the nation's largest private employer - and Dollar General Corp. (NYSE: DG) have said they're neutral on the issue but are looking into the possible benefits of a minimum wage raise.
Large industry groups like the National Retail Federation and the U.S. Chamber of Commerce remain opposed to a minimum wage increase, arguing it will cost jobs.
The minimum wage debate over jobs versus improving the lives of millions of the working poor will rage through most of this year, as the Democrats have fixed on it as a central campaign issue for the mid-term elections.
That means the companies with the most minimum wage workers all need to come up with a strategy to deal with whatever may happen. Even if Congress fails to raise the minimum wage this year, having a spotlight on the issue will create image problems no public company wants.
Here are the 10 companies with the most minimum wage workers - meaning the most at stake in the minimum wage debate this year...
The 10 U.S. Companies with the Most Minimum Wage Workers
Wal-Mart Stores (NYSE: WMT)

Total No. of U.S. workers: 1.4 million
Typical pay at Wal-Mart isn't quite as low as the minimum wage, but at $9 an hour it does fall short of President Obama's target. And while Wal-Mart has taken a neutral stance in the current debate, that wasn't true back in 2006 - when Congress voted on the most recent increase. Wal-Mart's support of that $0.70 an hour bump helped get the law passed.
McDonald's Corp. (NYSE: MCD)

Total No. of U.S. workers: Approx.739,000
The median wage at McDonald's is $9 an hour, but many workers do make the minimum wage or close to it. While the company hasn't said much about the minimum wage officially, former Chief Executive Officer Ed Rensi said last year that a $15 minimum wage would "absolutely" kill jobs. And McDonald's got in hot water last summer when it created a budget for its workers that listed a second full-time job in order to make ends meet.
Yum! Brands, Inc. (NYSE: YUM)

Total No. of U.S. workers: Approx. 694,700
Most Americans know this company better by the fast food chains it owns: KFC, Pizza Hut, and Taco Bell. Typical salaries for entry-level jobs at all three usually fall below $8 an hour. Yum! Brands is a particularly vocal opponent of raising the minimum wage. The company has warned its investors that an increase would hurt profit margins and last year it directly lobbied against a minimum wage bill that Congress was considering.
Target Corp. (NYSE: TGT)

Total No. of U.S. workers: 361,000
The average salary for someone on the Target sales floor is about $8.37 an hour and for a cashier is just $8.14 an hour. When the Associated Press recently asked Target spokeswoman for a reaction to the Obama proposals, she gave this noncommittal answer: "We're considering how best to balance the needs of working Americans while maintaining a healthy business environment conducive to job creation."
The Kroger Co. (NYSE: KR)

Total No. of U.S. workers: 343,000
Kroger operates numerous grocery, retail, jewelry, and convenience store chains throughout most of the United States. Average salaries for cashiers and courtesy clerks are under $8 an hour. Kroger has typically remained neutral on minimum wage increases.
Sears Holdings Corp. (Nasdaq: SHLD)

Total No. of U.S. workers: 246,000
Sears, which owns both the Kmart and Sears brands, has struggled against competition from Wal-Mart and Target. At Sears, sales associates make $8.29 an hour, while cashiers earn just $7.69. At Kmart both groups make less than $8 an hour. Like Target, Sears gave a non-response when pressed for a reaction to the move by The Gap to voluntarily raise wages: "We continually monitor and evaluate our pay and benefit programs in light of business and market conditions."
Darden Restaurants (NYSE: DRI)

Total No. of U.S. workers: Approx. 203,400
Darden owns such restaurant chains as Olive Garden and Red Lobster. While servers get very low hourly wages because they receive tips, other employees at these chains fare somewhat better, with pay in the $9 to $10 an hour range. However, Darden was right alongside Yum! Brands last year in fighting any increase in the federal minimum wage.
Macy's (NYSE: M)

Total No. of U.S. workers: 175,700
One might not think of "minimum wage" when they think of Macy's, but sales associates at the iconic department store average about $8.78 an hour. Macy's is generally tight-lipped on minimum wage increases, but joined with other retailers last summer in fighting a District of Columbia bill that would have required large retailers to pay workers at least $12.50 an hour.
The TJX Companies, Inc. (NYSE: TJX)

Total No. of U.S. workers: Approx. 138,000
Here's another retail company better known by the chains it owns: Marshalls, TJ Maxx, and HomeGoods. Sales associates and similar employees all make less than $8 an hour at these stores. The company has mostly kept mum on proposals to raise the minimum wage.
Starbucks Corp. (Nasdaq: SBUX)

Total No. of U.S. workers: Approx. 120,000
The ubiquitous coffeehouse company typically pays its baristas just under $9 an hour, but CEO Howard Schultz raised some eyebrows last year when he publicly expressed support for an increase in the minimum wage in a CNBC interview last year. But since Starbucks is paying about a $1 more an hour than Dunkin Brands Group (Nasdaq: DNKN), Shultz may just be taking the Costco-like view that any increase will hit rivals harder.
Are these big corporations, which can rake in billions in profits, taking advantage of their employees by paying low wages? Or are these workers getting paid what they deserve? Tell us what you think on Twitter @moneymorning or Facebook.
The minimum wage debate is just getting started, a lot is going to happen before we get to November - and most of it will be very unpleasant for the Republicans. Here's how this scenario will play out...
Related Links: