Damaging Obamacare facts regarding the impact on the nation's employers just keep on coming.
This one will ultimately affect 11 million U.S workers employed by small businesses.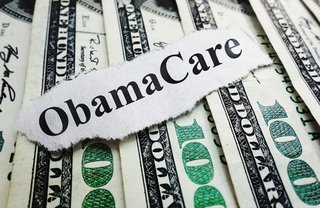 Last week, the Office of the Actuary for the Centers for Medicare & Medicaid Services put out a report predicting that 65% of small businesses are likely to face health insurance premium increases as a result of the healthcare law.
CMS assumes the business owners will pass on these increases to employees, the most probable reaction.
Approximately 17 million Americans work for small businesses, defined as those having 50 or fewer employees. Based on its projections, CMS said 11 million of those workers would probably see increases in their healthcare rates, while 6 million would see a reduction.
This news follows closely on the heels of a Congressional Budget Office (CBO) report that predicted the Affordable Care Act would result in 2.5 million fewer full-time jobs by 2023.
And the Obamacare facts regarding the 4.7 million-plus Americans in the individual market that had their policies canceled despite U.S. President Barack Obama's promise that "if you like your healthcare plan, you can keep it" is well documented.
While many had suspected that small businesses would get hit hard by the health insurance changes that Obamacare requires, the CMS report surprised just about everyone.
Critics were quick to lash out at the news.
"The idea that Obamacare was going to somehow reduce health insurance costs was a complete fiction from the start," Small Business & Entrepreneurship Council Chief Economist Ray Keating told FOX Business. "The hard realities of rising costs are becoming increasingly clear to all, with small businesses and their employees getting hit hard. It's more bad news for economic growth and job creation."
Democratic leaders, obviously worried about how such Obamacare facts will affect the November mid-term elections, tried to downplay the report.
"This report is the latest instance of House Republicans attempting to peddle half-truths and incomplete data," said Drew Hammill, spokesman for House Minority Leader Nancy Pelosi, D-CA.
But it's going to be hard for the Democrats to explain away an official government report from one of the agencies responsible for implementing the healthcare law.
And those headline statistics are just the tip of an ugly iceberg...
Obamacare Facts: These Rate Increases Were Built In
The reason so many small businesses are going to get hit with increases is, quite simply, because that's how Obamacare is designed.
Companies with younger and healthier employees - the majority - are the ones that will see the rate increases. Companies with older and sicker workers will see premium reductions.
Whatever one thinks of this idea - which is fundamental to all parts of the healthcare law - it puts many small businesses in a tough spot.
Do they raise the rates that the employees pay (as the CMS assumes), or eat the cost and take a hit on their bottom line? Or do they let a couple of workers go so they can afford the higher premiums?
Small businesses could also reduce the hours of some workers. Or they could stop offering healthcare insurance to their employees altogether and send them to the state exchanges.
Given the still-erratic U.S. economy, it's a headache small businesses could do without.
Obamacare Facts: Small Businesses Feel Deceived
To make matters worse, any small business that believed what the Obama Administration said when the healthcare law was passed did not prepare for premium increases.
That's because they were told - promised - that premiums would fall for most, if not all, small businesses.
Back in 2009 President Obama told small businesses that his plan would "make the coverage that you're currently providing more affordable." He also vowed that the ACA would push costs lower by 4% the first year - and as much as 25% by 2016.
And despite more recent talk from the Obama administration that the healthcare law has started to "bend down the cost curve," health insurance costs have risen over the past few years for small businesses, with 96% saying that their premiums have increased over the past five years.
Those premiums are likely to keep going up.

A study by consulting firm Oliver Wyman predicted that nationwide Obamacare will push premiums for small businesses up by about 20%.
Of course, the full impact of these Obamacare facts on small business won't be felt in 2014 because President Obama on Feb. 11 announced a second delay of the mandate requiring them to comply.
That's supposed to give small businesses more time to prepare for the changes Obamacare is bringing, although critics say that the delay is simply designed to postpone any backlash until after the mid-term elections.
Either way, postponing the mandate won't mitigate Obamacare's economic impact on small businesses - it will simply delay it one more year.
What do you think of the numbers in the CMS report? How well do you think small businesses will be able to cope with the increasing premiums resulting from Obamacare? Talk about it on Twitter @moneymorning or Facebook!
One of the most troubling Obamacare facts to surface in recent weeks is that the healthcare law has fallen far short of signing up its goal of 7 million previously uninsured people by the end of March. But the degree to which Obamacare has utterly failed the uninsured is truly alarming...
Related Links: