SolarCity Corp. (Nasdaq: SCTY) stock was up more than 2.8% in early trading Tuesday despite the fact that the company delayed its Q4 earnings report for the second time.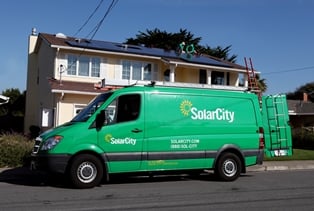 The company announced yesterday (Monday) that it found an accounting error relating to its overhead expenses and now has to restate its 2012 and 2013 financial results. The earnings are expected to be released on March 18.
Company officials stated that total overhead costs will remain unchanged. The cost of solar system sales will increase by $16 million to $20 million for the first nine months of 2013. For the full year 2012, that figure will increase $20 million to $23 million total.
This is the second time that SolarCity delayed its Q4 earnings. The company initially targeted Feb. 24 as its earnings release date.
Analysts are estimating that SCTY will report a GAAP earnings per share loss of $0.55 on revenue of $44.8 million.
While the second delay of earnings could cause concern for investors, there are numerous bullish indicators for SCTY stock today...
Strong Growth for SolarCity (Nasdaq: SCTY)
SolarCity stock ended Monday down 2% following the delayed earnings news, but quickly rebounded on Tuesday morning, up 2.8%. The stock currently trades near $86 per share.
SOLARCITY
Price: 64.61 | Ch: -1.38 (-2.1%)
SCTY is one of the hottest solar stocks, up nearly 50% in 2014 and 367% in the last 12 months. By comparison, competitors SunPower Corp. (Nasdaq: SPWR) and First Solar Inc. (Nasdaq: FSLR) are up 19% and 6% in 2014, respectively.
While investors are waiting on the final earnings report, SolarCity has released some of its Q4 financial information.
The Elon Musk owned company is the U.S.'s largest provider of residential solar power. In Q4 the company accounted for 32% of the U.S. residential solar market. According to the company, that's the same percentage as the next largest 14 companies combined.
SolarCity deployed 280 megawatts (MW) of solar power in 2013, which was up from 157 MW in 2012. The company expects to deploy between 475 to 525 MW in 2014.
And that growth is reflected in the company's revenue figures.
SCTY reported that revenue from leasing solar equipment was $22.4 million in Q4, a jump of 59% from the previous year. Lease revenue was toward the low end of the company's $22 million to $24 million projection, but growth was still strong.
Likewise, revenue from leases and system sales totaled $47.3 million. Consensus estimates had that figure at $43 million.
SolarCity does not have the most profitable history, having reported earnings losses each of the last four quarters. However, growth figures have continued to push the solar stock higher.
The solar industry itself continues to burgeon. According to the Solar Energy Industries Association, 2013 was a record year for solar installations. The cost of solar panels and their installation continues to drop, contributing to the solar boom.
As the leader in residential solar, SolarCity is positioned perfectly in this growing industry.
Zacks Investment Research currently holds a "#2 Buy" position on SCTY stock, which is the firm's second highest rating.
According to analysts surveyed by Thomson/First Call, one analyst rates SCTY as a "Strong Buy," three as a "Buy," five as a "Hold," and one as an "Underperform."
As the solar industry grows and SolarCity continues to post strong growth figures, news stories like yesterday's accounting error will remain just blips on SCTY stock's radar.
Do you invest in the solar industry? Which solar stocks are you watching today? Join the conversation on Twitter @moneymorning using #SolarCity.
There's massive wealth to be found in high-tech stocks. And this "High-Tech GPS" will help you navigate the field and double your profits...
Related Articles: