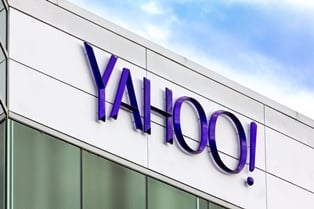 Yahoo! Inc. (Nasdaq: YHOO) reported second-quarter 2014 earnings results after closing bell today (Tuesday). Despite a miss, Yahoo stock surged more than 2.25% after hours.
Here's what's going on...
Yahoo Stock Up After a Miss
The digital media giant missed Wall Street's earnings per share (EPS) estimate of $0.28 by $0.01. Consensus expectations predicted a 5% dip in revenue to $1.08 billion in Q2, and YHOO landed under that value with revenue coming in at $1.04 billion.
This is the first time in the five quarters since Chief Executive Officer Marissa Mayer took the reins in 2012 that Yahoo missed earnings estimates.
In a press release with the results, Mayer expressed disappointment.
"Our top priority is revenue growth and by that measure, we are not satisfied with our Q2 results," she stated. "While several areas showed strength, their growth was offset by declines. Yahoo Search, for example, had a strong quarter, growing 6% year over year on a revenue ex-TAC basis and 19% year over year in search click-driven revenue. Our social, mobile, video, and native areas also grew with significant momentum, collectively gaining nearly 90% year over year. However, display remains an area of investment and transition. In Q2, we saw display revenue decline, further highlighting the fact that we need to work faster to ameliorate the negative trends. I believe we can and will do better moving forward."
The key to doing better moving forward will be monetizing mobile.
Per Mayer's comment today, mobile "grew with significant momentum," up nearly 90% year over year. In the past, triumph on mobile has helped the company counteract Yahoo's lackluster revenue from the display ads and search ads divisions. But today's increased mobile user base wasn't enough to offset lower ad revenue. GAAP display revenue was $436 million, an 8% decrease compared to Q2 2013.
"I was really looking for improvement in Yahoo's advertising revenue in particular," Money Morning Defense & Tech Specialist Michael A. Robinson said after earnings were released today. "It's important that Yahoo starts doing a better job with mobile because that's the way the world is going and Facebook is really quickly taking over that market. At this point it's also very important for Marissa Mayer to show that the company's restructuring really is taking hold with stronger operating margins and growth in earnings."
So with a revenue miss, why is Yahoo stock surging in after hours?
There's one simple answer...
An Alibaba Amendment
Yahoo relies on its 24% stake in the Chinese e-commerce giant Alibaba Group Holding Ltd., which accounts for more than 50% of Yahoo stock value.
Alibaba is expected to make its public debut this summer, and it will be an initial public offering (IPO) for the ages. Numerous estimates place the Alibaba IPO near $20 billion, which would make it the largest U.S. IPO ever. At the least, Alibaba is expected to easily beat the $16 billion raised by Facebook Inc. (Nasdaq: FB) in 2012, making it the largest Internet IPO of all time.
In the earnings release today, Yahoo announced Alibaba agreed to a reduction in the number of shares Yahoo is required to sell at the IPO.
"We are pleased to announce today that we have entered into an amendment to the share repurchase agreement with Alibaba, reducing the number of shares that Yahoo is required to sell at the IPO from 208 million shares to 140 million shares," YHOO Chief Financial Officer Ken Goldman said. "In addition, we are aware that there has been much discussion around the allocation of the Alibaba IPO proceeds. We would like to take this opportunity to let our investors know that we are committed to return at least half of the after-tax IPO proceeds to shareholders, in line with our overarching commitment to maximizing shareholder value through prudent capital allocation."
It was on the wings of this Alibaba announcement that YHOO stock surged more than 2.25% in after-hours trading today.
The Alibaba IPO date is clearer now with its "roadshow" timetable set. Here's the latest on what is shaping up to be the biggest IPO of all time...