Tesla Motors Inc. (Nasdaq: TSLA) announced today (Wednesday) that it will be halting the production of its Model S sedans for two weeks so that it can upgrade its Fremont, Calif., factory and begin manufacturing its second line of vehicles: the Model X. Tesla stock rose 2% on the news in morning trading.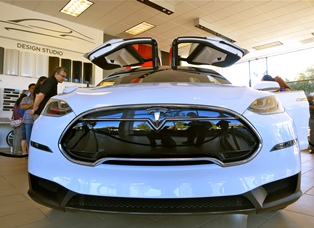 The Model X - the highly anticipated follow up to Tesla's signature Model S - is a crossover SUV designed to "blend the best of an SUV with the benefits of minivan." In classic Tesla fashion, the car will be flashy. "Falcon-wing" doors on the car will open up, rather than out.
The addition to the factory will cost Tesla approximately $100 million and will add 25 robots to assembly lines.
"This represents the single biggest investment in the plant since we really started operations and enables us for higher volumes," Tesla spokesman Simon Sproule told Bloomberg. "It gets us ready to build X and to do it on the same line as the S."
While vehicle production numbers will be stunted in the short-term, Tesla says that the upgrade will increase production by 25% when the factory reopens.
And that's important for Tesla, because company officials have set high production goals this year.
TESLA MTRS
Price: 242.68 | Ch: -2.58 (-1.1%)
In May, Chief Executive Officer Elon Musk announced that Tesla was producing around 700 vehicles per week, but was hoping to reach 1,000 by the end of the year. This week, Tesla officials said that production is currently 800 vehicles a week.
Tesla hopes that boosting production will help the company reach its delivery goal of 35,000 vehicles in 2014. Selling 35,000 vehicles would be a 56% increase from its 2013 total.
Aside from the Model X, Tesla is also hoping to launch a line of vehicles called the "Model 3" by 2017. The Model 3 will be a smaller and more affordable vehicle. Currently, Model S sedans begin at $71,000. A Model 3 is expected to cost about half that. Tesla has not announced a retail price for the Model X.
Today's news sent TSLA up 2%, a continuation of the stock's extremely volatile activity. Tesla stock is up 48% in the last 12 months, but is currently trading at $222.79 - well below its 52-week high of $265.00.
Here's how we're playing TSLA stock now...
How to Play Tesla Stock Now
Last week, Tesla stock jumped 4% after China issued a mandate that 30% of all government cars must be electric-powered by 2016. That price surge was short lived however, and the stock was down 5% just two days later.
Investors should expect TSLA stock to remain volatile in the short term, as any news story impacts share price rather drastically. Today's news has the stock up several percentage points, but it's hard to tell how long the rally will last.
Additionally, Tesla will report earnings July 31, and that will be another source of volatility for the stock. Analysts are projecting earnings per share of $0.04 in the quarter, which is down considerably from the $0.20 it reported last year. However, revenue is expected to grow by nearly 47%.
Shareholders should brace for a large price swing depending on how TSLA measures up to those projections.
Because of the volatility that surrounds Tesla, TSLA stock is not a short-term play. However, there is no denying the stock's long-term potential, and for investors looking for an aggressive long-term play, Tesla is a good candidate.
The company is a pioneer in the electric-vehicle (EV) market, a potential disruptive technology that Musk hopes is the future of the automotive industry. In fact, Musk is so dedicated to the success of the EV market that he released all of the company's patents last month in order to promote collaboration among competitors.
Money Morning's Chief Investment Strategist Keith Fitz-Gerald has said the long-term potential for TSLA stock is intriguing.
"I think Elon Musk is one of the most dynamic CEOs on the planet, and I believe he has the potential to make Tesla a $1,000 stock within the decade," Fitz-Gerald said.
Editor's Note: Elon Musk has helped Tesla stock gain 529% in the past two years as the company operates as a major tech game changer.
Now Tesla is engaged in a highly sensitive venture called BlueStar that could disrupt $737 billion of the U.S. economy and impact 98% of the population.
Few details concerning BlueStar have made their way into the press. However, a recent investigation uncovered some shocking revelations... take a look.
Related Articles: