Elon Musk followed his own advice today (Thursday) in a way that will pay off huge for Tesla Motors Inc. (Nasdaq: TSLA) stock investors...
You see, Musk is viewed as one of the boldest and most innovative chief executive officers in the world. That's part of the reason why Tesla stock has seen a meteoric rise of 515% since the start of 2013. He's also the co-founder of PayPal, Tesla, SpaceX, and SolarCity Corp. (Nasdaq: SCTY).
And in his commencement address last month to the graduating class of the University of Southern California's business school, he said to "Do something bold."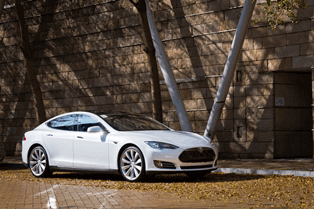 And he's done something bold - again - by opening up all of Tesla's patents for electric vehicles.
In a blog post on Tesla's website, Musk wrote today that the company "will not initiate patent lawsuits against anyone who, in good faith, wants to use our technology."
The decision was made to help energize the electric vehicle market, which Musk says still lags too far behind the traditional auto market.
According to the blog post, new vehicle production is nearing 100 million vehicles annually, and there are nearly 2 billion operational vehicles worldwide. However, automakers attribute less than 1% of their total vehicle sales to electric vehicles on average.
By opening up all of its patents, Tesla and Musk hope that other automakers will be more inclined to produce electronic cars.
"We believe that Tesla, other companies making electric cars, and the world would all benefit from a common, rapidly evolving technology platform," Musk said.
"Tesla Motors was created to accelerate the advent of sustainable transport," he continued. "If we clear a path to the creation of compelling electric vehicles, but then lay intellectual property landmines behind us to inhibit others, we are acting in a manner contrary to that goal."
Some have viewed the move as risky, as competitors will now be able to employ the same exact technology as Tesla. But that's all part of Musk's strategy - a strategy that's going to pay off huge for TSLA stock investors...
What an Expanded Market Means for Tesla (Nasdaq: TSLA) Stock