The biggest Wall Street regulation overhaul since the Great Depression was approved after 20-hour House-Senate negotiations ended this morning (Friday). The legislation brings a dramatic shift in financial reform, but comes down easier on financial institutions than initially planned.
The bill, named the Dodd-Frank Act after Sen. Christopher J. Dodd, D-CT, and Rep. Barney Frank, D-MA, brings sweeping reforms to consumer protection, trading restrictions for big banks, and the regulation of financial products.
"It establishes the greatest consumer financial protections in American history. It prevents financial firms from taking risks that will threaten the economy. And it provides the government with significant new tools to better protect taxpayers from the damage of future financial crises," U.S. Treasury Secretary Timothy F. Geithner said in a statement.
While analysts are still determining just how deep of an impact the rules will have on Wall Street, they have noted that the reform will serve the purpose of providing more transparency in the operations of financial institutions and regaining investor and consumer confidence.
"My first line of thinking is that obviously there was a lack of systemic oversight in some of the businesses that were generating a lot of profits for the industry," Jim Eckenrode, a banking analyst at TowerGroup, told The New York Times. "Trying to harmonize the regulatory environment I think makes a lot of sense. I do think that generally the banks should be pleased that it was not worse than it was."
Many tough banking provisions were softened in the final hours to reach an agreement among Republicans and Democrats haggling over the final bill.
A revised version of the "Volcker Rule," named after former Federal Reserve Chairman Paul Volcker, will prohibit banks for engaging in proprietary trading but will allow limited investments in hedge funds and private equity funds.
The ban will limit profits for firms like powerhouse Goldman Sachs Group, Inc. (NYSE: GS), which collects 10% of its annual revenue from proprietary trading. Although Wall Street argues that this kind of trading was not at the root of the financial crisis, lawmakers saw a need to protect retail deposits from risky banking bets.
One of the most controversial provisions, created by Sen. Blanche L. Lincoln, D-AR, would have ended banks' ability to trade derivatives. The final version was watered down to allow banks to retain certain derivatives trading units to hedge risk, but riskier trading - like that involving metals, energy swaps and agriculture commodities - will have to be spun off into separately capitalized affiliates.

Financial firms and banks were surprised with a $19 billion fee to pay for the cost of the reform efforts. Congress thought it fair to pass the payment on to the institutions whose "collective errors" had brought damage to the U.S. economy.
Still, Wall Street celebrated, as the final bill was far less restrictive than feared. The fact that firms could still invest 3% of their Tier 1 capital in hedge funds and private equity funds meant they could keep ownership of many internal funds.
"It is a victory for us because it gets away from this concept that we would have to spin off or sell most of these businesses," said a senior Wall Street executive.
Overall, Wall Street felt it dodged a bullet and the reforms would require retooling that would do little to dent their trillions in profits.
"It is arguable how much this bill will improve financial stability," said Stephen Stanley of Pierpoint Securities. "I am not a big fan of the workout scheme, and I doubt that the various derivatives proposals will in the end lead to dramatically less risk taking, since investors can go overseas and do other things to take risk. There is no question that it could have been worse. The Fed could have lost much more of its independence, and there were some on the left calling for the big banks to be broken apart. And all of the watering down that occurred near the end of the process makes the bill less onerous on several fronts than it might have been."
Consumers gained some ground with a new consumer financial protection bureau that's housed in the Fed but operates under independent authority and with an $850 million annual budget. The bureau will closely monitor credit cards and mortgage products and write and enforce rules for firms and banks with more than $10 billion in assets. Consumer advocate groups are calling the provisions "landmark legislation."
Some analysts warn that what consumers' gain in protection they might also gain in costs, as banks will have an easy time dealing with new fees and limited trading by passing additional expenses on to bank customers.
"The banks will have numerous methods of getting around the most onerous provisions in this bill to maintain their earnings growth," Richard Bove, a banking analyst with Rochdale Securities, told The Times. "But the things they will do will increase the cost of banking to everybody in this country. You're going to get a letter from your bank saying you now have to pay $1 to $15 a month to pay for this bill. The banks are going to get the money back because the consumer is going to pay for the bill, and that's the killer for the consumer."
Others say the real effect will be seen when the final law is passed and regulators start to clamp down on the industry. Investors will have to wait to see just how much banks' profitability will change.
"One of the issues is really going to be going forward trying to understand how this is actually going to affect earnings, because the banks have been very cagey on how much of their earnings generally come from proprietary trading and private equity and hedge fund investing," Joshua Steiner, a managing director who covers the financial sector for Hedgeye Risk Management, told The Times.
Firms like Goldman and Citigroup Inc. (NYSE: C) say they are still assessing the potential impact of the bill and will need to wait for regulators' interpretation to know how new business will truly develop.
Analysts question whether or not the bill finally brought an end to "too-big-to-fail" banks, and if its implementation before the financial crisis would really have prevented the housing market collapse and the billions spent in bailout funds.
Critics also have been quick to point out that the bill does nothing to address the deteriorating status of Fannie Mae (NYSE: FNM) and Freddie Mac (NYSE: FRE). They continue to drain billions from the U.S. Treasury
Republicans have voiced concern over the unforeseen consequences the bill could bring.
"My guess is there are three unintended consequences on every page of this bill," Rep. Jeb Hensarling, R-TX, told The Wall Street Journal about the nearly 2,000-page bill.
Washington fought to come to agreement before President Obama headed off to the Group of 20 (G20) meeting in Canada this weekend, where he will try to sway global finance chiefs to limit budget cuts and continue stimulus efforts to prevent an economic recovery collapse.
News and Related Story Links:
Here Are 10 "One-Click" Ways to Earn 10% or Better on Your Money Every Quarter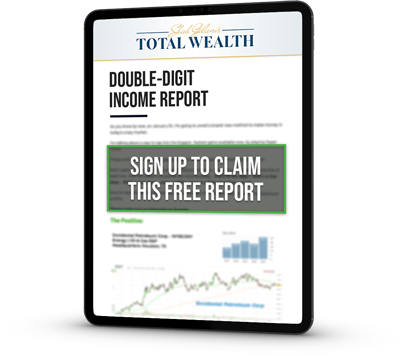 Appreciation is great, but it's possible to get even more out of the shares you own. A lot more: you can easily beat inflation and collect regular income to spare. There are no complicated trades to put on, no high-level options clearances necessary. In fact, you can do this with a couple of mouse clicks – passive income redefined. Click here for the report…