Late last month, depending on how you look at it, either something wonderful happened - or the feds continued their cowardly, conniving ways.
A group of federal prosecutors met in Washington and in New York with various financial regulators to discuss filing criminal charges against and coercing guilty pleas out of two giant banks.
David O'Neil, head of the U.S. Justice Department's criminal division; Preet Bharara, the U.S. attorney for the Southern District of New York; and Cyrus Vance Jr., the Manhattan district attorney, met in Washington with regulators and lawyers from the U.S. Federal Reserve and the Office of the Comptroller of the Currency (OCC). And then they took the Acela Express up to the Big Apple to meet with Benjamin M. Lawsky, New York State's first superintendent of financial services.
During these meetings, they discussed extracting guilty pleas from Swiss megabank Credit Suisse Group AG (NYSE ADR: CS) and giant French bank BNP Paribas (Euronext: BNP).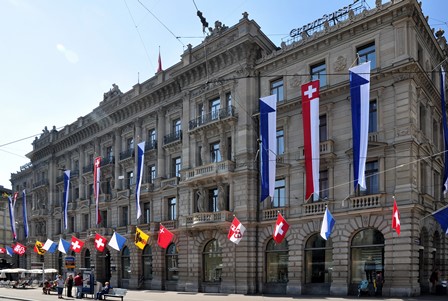 Credit Suisse is accused of helping U.S. citizens evade federal taxes, while BNP Paribas is charged with knowingly doing business with nations, such as Sudan, that face U.S. sanctions.
Send up the fireworks, right? Federal prosecutors are actually doing their job! They're punishing the patently criminal activity that's so frequently perpetuated by big banks.
This looks to be a historic occurrence. But two things tell me we shouldn't pop open the champagne... yet.
Let me show you why.
A History Lesson
If either bank ends up pleading guilty to criminal charges, it would be the first time in more than two decades that a bank or investment bank will have done so.
The feds go after the big banks so infrequently, even after all the malfeasance uncovered in 2008-2009, for two main reasons. First off, how many times have I told you about the merry-go-round between the big banks and the regulating agencies?
Young turks make their bucks on Wall Street, and then trade in their power suits and spend a few years in Washington, D.C., as regulators. While in the capital, they protect their cronies back in New York - and then head back there to make even more bucks. And so on, forever and ever.
And then there's prosecutors' and regulators' fear - cowardice - of the economic fallout that could occur if they shut down a big bank. In fact, federal law requires criminal prosecutors to weigh the business and economic consequences of coercing guilty pleas from corporations.
This, of course, provides convenient cover for the hubris of corporations, the fear of prosecutors, and the duplicity of regulators.
But here's what especially sticks in the minds of the feds.
It's what happened to the "junk bond" market in 1988. That year, federal prosecutors strong-armed Drexel Burnham Lambert into pleading "no contest" - aka "guilty" - to six felonies having to do with charges of stock parking and stock manipulation. And they tossed high-level Drexel employee Michael Milken in jail for a few years.
While prosecutors were unable to shut down Drexel immediately, its prominent high-yield traders and bankers left and the firm filed for bankruptcy in 1990. While this was a victory for the justice-minded, when your fifth-largest investment bank closes, it's never good for the economy.
But, what really haunts prosecutors is that, in the immediate aftermath of all this, the U.S. bonds and capital markets wavered. (Remember the Savings and Loan Crisis? If not, ask your parents - or Google it.)
And when, in 2002, Arthur Andersen LLP voluntarily gave up its U.S. accounting business after being found guilty of criminal charges for aiding and abetting fraud at Enron, 85,000 employees lost their jobs.
Moreover, although Lehman Brothers' demise in 2008 had nothing to do with criminal charges, what happened to the markets after it imploded sends chills down regulators' spines. I know you remember the Great Recession.
Feds Find Their Guts
So, while federal regulations, fear of damaging the economy, and crony capitalism have long confounded prosecutors and stymied guilty pleas, that could change... and very shortly.
But wait, before we celebrate the feds' newfound moxie, let me pound 'em a couple times. First, Credit Suisse and BNP Parnibas? It's a bit cowardly to go after foreign firms before cleaning up your own house.
Wake me up when the prosecutors go after Bank of America Corp. (NYSE: BAC) and JPMorgan Chase & Co (NYSE: JPM).
But maybe Credit Suisse or BNP outcomes are just shots across the bow.
Prosecutors are treading carefully out of fear that criminal charges and guilty pleas could cause a bank to close; cause innocent employees, partners, and customers to suffer the fallout; and/or have an extensive economic impact.
And regulators, as is their tradition, are "shilling" for their charges, arguing the banks' line that a threat to a big bank anywhere is a threat to the system everywhere.
Noting the injustice of big banks strong-arming regulators to lean on prosecutors to be more lenient, Preet Bharara recently described this process to a gathering of Wall Street lawyers as a "gaping liability loophole that blameworthy companies are only too willing to exploit."
Bharara has "warned" all the big banks he's looking at them and says that, before long, he will start extracting guilty pleas.
Now, regulators, who would be responsible for taking action against convicted criminal parties, and prosecutors, who are pushing a change of course, are discussing whether the parent companies of big banks would suffer irreparable damage or whether, as in the recent past, more serious charges and guilty pleas could be extracted from walled-off subsidiaries.
To me, however, they're looking in the wrong place. Let me tell you where prosecutors should be gunning.
People Problem
Not prosecuting crime is never a good idea. However, prosecutors are not addressing the root of the problem - people.
People, not inanimate objects, commit crimes. While these big banks may seem like monolithic entities, even if the Supreme Court has given them the inalienable rights of people, they are really the collective product of individuals both innocent and criminal.
So, why should an otherwise productive business and innocent officers, employees, shareholders, creditors, counterparties, customers, and taxpayers be punished for the actions of easily identifiable guilty persons?
Prosecutors should offer guilty big banks a deal they can't refuse. They should use the threat of a complete shutdown to get these companies to identify the guilty individuals, including entire departments and business lines - if the "culture" of those groups is based on criminal activity.
And then serve up the financial clawbacks, suspensions, expulsions, and prison sentences, as warranted.
When Bharara, O'Neil, and the other prosecutors start doing this - and start getting real results - that's when I'll crack open the champagne. Until then, I'm keeping my eyes wide open.
More from Shah Gilani: The markets are rigged. There's no denying it. And here's how the SEC profits from high-frequency trading...
About the Author
Shah Gilani boasts a financial pedigree unlike any other. He ran his first hedge fund in 1982 from his seat on the floor of the Chicago Board of Options Exchange. When options on the Standard & Poor's 100 began trading on March 11, 1983, Shah worked in "the pit" as a market maker.
The work he did laid the foundation for what would later become the VIX - to this day one of the most widely used indicators worldwide. After leaving Chicago to run the futures and options division of the British banking giant Lloyd's TSB, Shah moved up to Roosevelt & Cross Inc., an old-line New York boutique firm. There he originated and ran a packaged fixed-income trading desk, and established that company's "listed" and OTC trading desks.
Shah founded a second hedge fund in 1999, which he ran until 2003.
Shah's vast network of contacts includes the biggest players on Wall Street and in international finance. These contacts give him the real story - when others only get what the investment banks want them to see.
Today, as editor of Hyperdrive Portfolio, Shah presents his legion of subscribers with massive profit opportunities that result from paradigm shifts in the way we work, play, and live.
Shah is a frequent guest on CNBC, Forbes, and MarketWatch, and you can catch him every week on Fox Business's Varney & Co.