Late last month, depending on how you look at it, either something wonderful happened - or the feds continued their cowardly, conniving ways.
A group of federal prosecutors met in Washington and in New York with various financial regulators to discuss filing criminal charges against and coercing guilty pleas out of two giant banks.
David O'Neil, head of the U.S. Justice Department's criminal division; Preet Bharara, the U.S. attorney for the Southern District of New York; and Cyrus Vance Jr., the Manhattan district attorney, met in Washington with regulators and lawyers from the U.S. Federal Reserve and the Office of the Comptroller of the Currency (OCC). And then they took the Acela Express up to the Big Apple to meet with Benjamin M. Lawsky, New York State's first superintendent of financial services.
During these meetings, they discussed extracting guilty pleas from Swiss megabank Credit Suisse Group AG (NYSE ADR: CS) and giant French bank BNP Paribas (Euronext: BNP).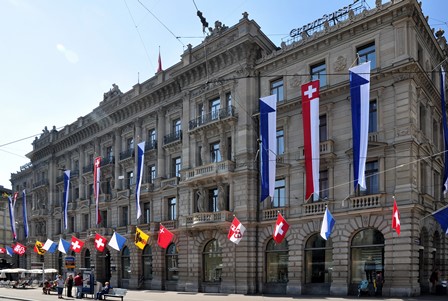 Credit Suisse is accused of helping U.S. citizens evade federal taxes, while BNP Paribas is charged with knowingly doing business with nations, such as Sudan, that face U.S. sanctions.
Send up the fireworks, right? Federal prosecutors are actually doing their job! They're punishing the patently criminal activity that's so frequently perpetuated by big banks.
This looks to be a historic occurrence. But two things tell me we shouldn't pop open the champagne... yet.
Let me show you why.
A History Lesson
If either bank ends up pleading guilty to criminal charges, it would be the first time in more than two decades that a bank or investment bank will have done so.
The feds go after the big banks so infrequently, even after all the malfeasance uncovered in 2008-2009, for two main reasons. First off, how many times have I told you about the merry-go-round between the big banks and the regulating agencies?
Young turks make their bucks on Wall Street, and then trade in their power suits and spend a few years in Washington, D.C., as regulators. While in the capital, they protect their cronies back in New York - and then head back there to make even more bucks. And so on, forever and ever.
And then there's prosecutors' and regulators' fear - cowardice - of the economic fallout that could occur if they shut down a big bank. In fact, federal law requires criminal prosecutors to weigh the business and economic consequences of coercing guilty pleas from corporations.
This, of course, provides convenient cover for the hubris of corporations, the fear of prosecutors, and the duplicity of regulators.
But here's what especially sticks in the minds of the feds.
Join the conversation. Click here to jump to comments…
About the Author
Shah Gilani boasts a financial pedigree unlike any other. He ran his first hedge fund in 1982 from his seat on the floor of the Chicago Board of Options Exchange. When options on the Standard & Poor's 100 began trading on March 11, 1983, Shah worked in "the pit" as a market maker.
The work he did laid the foundation for what would later become the VIX - to this day one of the most widely used indicators worldwide. After leaving Chicago to run the futures and options division of the British banking giant Lloyd's TSB, Shah moved up to Roosevelt & Cross Inc., an old-line New York boutique firm. There he originated and ran a packaged fixed-income trading desk, and established that company's "listed" and OTC trading desks.
Shah founded a second hedge fund in 1999, which he ran until 2003.
Shah's vast network of contacts includes the biggest players on Wall Street and in international finance. These contacts give him the real story - when others only get what the investment banks want them to see.
Today, as editor of Hyperdrive Portfolio, Shah presents his legion of subscribers with massive profit opportunities that result from paradigm shifts in the way we work, play, and live.
Shah is a frequent guest on CNBC, Forbes, and MarketWatch, and you can catch him every week on Fox Business's Varney & Co.