Back in the late 1990s, my wife was expecting our second daughter and we were really anxious to buy a home.
But the real estate market was soaring... prices were insane.
I can't tell you how many times we lost out on a house we really liked because some other buyer was willing to pay 25% or more above the asking price - or was an "all-cash" buyer.
I never play that game - and never pay more than list.
Although real estate agents urged me to "look at the market" and "play the game" to get into a house, I refused. Overpaying, I knew, might work in the moment. But when the market got back to normal, I'd be left owning a house that was worth less than I paid for it.
You just can't make money that way.
As it turns out, we ended up buying a great house for thousands under the asking price. Not only that, but the agents cut their commissions to make the deal and actually paid us cash to move in.
I'm telling you this tale for a reason.
My story underscores the importance of managing risk during times of market volatility.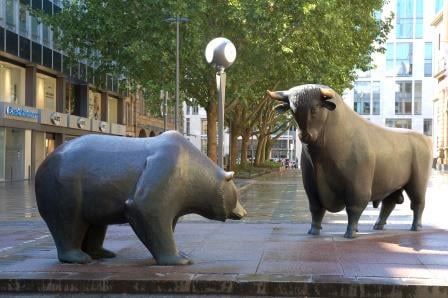 And what's true of real estate is just as true for stocks, including tech stocks. At their core, houses and tech stocks are both financial assets. Managed recklessly, they can drive you into the poor house.
But managed skillfully, they can make you rich.
During my 30 years as an investor, I've developed five tools for turbulent markets. Through the years, they've always turned the table to my advantage.
And today I want to share them with you.
With the Nasdaq Composite Index - and tech stocks in general - going through a turbulent stretch of their own, these five rules will help keep you from making mistakes.
My five rules will help you navigate the market volatility we're seeing right now.
And, in the long run, they will help make you wealthy.
How to Profit from Market Volatility: Five Easy-to-Use Tools
Market Volatility Tool No. 1: Make Lowball Offers
I understand why many investors are confused these days. After all, the markets are all over the place.
But don't worry: These rules are a set of tools that, used correctly, will put your mind at ease in any kind of market. And, in the long run, they'll help get you to the "Winner's Circle" so you can profit.
By making crazy-low offers in a torrid real estate market, I bought a home with built-in profits. It's a time-honored investment principle: Make your money when you buy, not when you sell.
With stocks, it's easy to make lowball orders. These are called "limit" orders, meaning you only buy when the stock hits your chosen personal target price.
Let's say momentum investors have piled into XYZ Software Corp., causing it to double in a short amount of time. Now, it's sold off a bit and is locked in a directionless, "sideways" market.
You want to buy the stock for the long haul: It has great financials, strong management, excellent products, and a strategically sound position in a growing market.
Suppose XYZ had a recent high of $100 and then dropped to $75. A lowball limit order of, say, $60 (a 20% discount) will protect your risk of losses and greatly boost your long-term gains.
Remember to stay focused and disciplined. If your research has yielded a price that makes sense, stick to it. You can set it up so the lowball limit order automatically expires in 60 days, which is called "good till canceled."
If the order doesn't fill, don't worry about it. You'll have plenty more opportunities in the future.
This next tool is a powerful way to turn the investing odds in your favor. And it works in any kind of market...
Join the conversation. Click here to jump to comments…
About the Author
Michael A. Robinson is a 36-year Silicon Valley veteran and one of the top tech and biotech financial analysts working today. That's because, as a consultant, senior adviser, and board member for Silicon Valley venture capital firms, Michael enjoys privileged access to pioneering CEOs, scientists, and high-profile players. And he brings this entire world of Silicon Valley "insiders" right to you...
He was one of five people involved in early meetings for the $160 billion "cloud" computing phenomenon.
He was there as Lee Iacocca and Roger Smith, the CEOs of Chrysler and GM, led the robotics revolution that saved the U.S. automotive industry.
As cyber-security was becoming a focus of national security, Michael was with Dave DeWalt, the CEO of McAfee, right before Intel acquired his company for $7.8 billion.
This all means the entire world is constantly seeking Michael's insight.
In addition to being a regular guest and panelist on CNBC and Fox Business, he is also a Pulitzer Prize-nominated writer and reporter. His first book Overdrawn: The Bailout of American Savings warned people about the coming financial collapse - years before the word "bailout" became a household word.
Silicon Valley defense publications vie for his analysis. He's worked for Defense Media Network and Signal Magazine, as well as The New York Times, American Enterprise, and The Wall Street Journal.
And even with decades of experience, Michael believes there has never been a moment in time quite like this.
Right now, medical breakthroughs that once took years to develop are moving at a record speed. And that means we are going to see highly lucrative biotech investment opportunities come in fast and furious.
To help you navigate the historic opportunity in biotech, Michael launched the Bio-Tech Profit Alliance.
His other publications include: Strategic Tech Investor, The Nova-X Report, Bio-Technology Profit Alliance and Nexus-9 Network.