The Alibaba IPO date could be set for sometime early next month, and the hype continues to grow surrounding what may be one of the largest initial public offerings ever.
To make sure you haven't missed any of the facts surrounding this epic IPO, we put together the most important details of why Alibaba is such a big deal to U.S. markets, to the 2014 IPO landscape, and to your money...
10 Things to Know Before the Alibaba IPO
Alibaba IPO Could be the Largest Ever: It has been widely estimated that the Alibaba IPO will be the largest Internet IPO of all time, surpassing the $16 billion raised by Facebook Inc. (Nasdaq: FB) in 2012. But the estimates don't stop there. Bloomberg has projected that Alibaba could raise $20.16 billion. That would make it the largest U.S. IPO ever, topping the $19.65 billion Visa Inc. (NYSE: V) raised in 2008.
The investment research firm Morningstar has released the most bullish estimate yet. They've pegged the IPO for $26 billion, which would surpass the $22.1 billion raised by the Agricultural Bank of China in 2010 as the largest IPO in global history.
Alibaba's Valuation Is Rising: Similar to the IPO total, the valuation estimates for Alibaba continue to rise. The general consensus is that Alibaba will be valued at $168 billion, but other firms have released higher estimates. Last week, Piper Jaffray analyst Gene Munster projected that the Chinese e-commerce giant is worth $221 billion, including cash.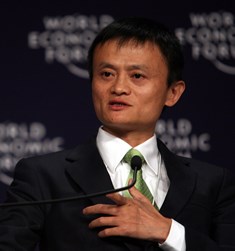 And that still wasn't even the highest estimate. Before that, financial research company Sanford C. Bernstein estimated Alibaba's value at $230 billion.
Alibaba's Disruptive Leader Is on Fire: Alibaba's former founder and current Chairman Jack Ma had an inauspicious start. Formerly a teacher, Ma had no computing or e-commerce experience. But that didn't stop him from creating China's largest e-commerce company.
"Innovation in many industries has been triggered by outsiders," Ma wrote in a June 2013 article in the Communist party's official newspaper the People's Daily. "The finance industry needs a disrupter, it needs an outsider to come in and carry out a transformation."
And inexperience hasn't stopped Ma from bringing Alibaba into various markets. Ma and Alibaba have purchased logistics, retail, commerce, and media companies in the last year. He also purchased a professional soccer team in early June.
Chinese E-Commerce Is Exploding: "Alibaba is the dominant e-commerce player in a marketplace - China - that's seeing incredible growth in online commerce," Money Morning's Executive Editor Bill Patalon said. "According to the latest research I've seen, e-commerce in China is projected to hit $540 billion by 2015, and that's just for starters. By 2020, China's e-commerce market will be worth more than the United States, the United Kingdom, Japan, Germany, and France combined. So we know that growth is coming... and we know that Alibaba is the No. 1 gun."
"Look at it another way: the number of consumers and business folks connected to the Internet in China - whether you're talking about computers, tablets, or smartphones - is bigger than the entire U.S. population. And the government there is actually pushing growth. Beijing has mandated that 1.2 million folks - 85% of its population - will have broadband connections (3G or 4G) by 2020."
Money Morning Members - keep reading for six more key points about Alibaba. Non-members, sign up now for instant access to the rest of this Alibaba IPO update (and you'll get ALL our investing analysis, for free)...