Tesla Motors Inc. (Nasdaq: TSLA) stock has seen a meteoric rise of more than 770% in the last two years as more electric vehicles (EVs) hit the road every day.
And even though TSLA stock trades near all-time highs of $265 per share, evidence suggests that TSLA still has room to run long-term - because the EV market is growing rapidly...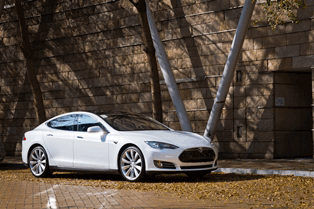 Hybrid vehicles (electric and gas powered) became popular in Japan in the late 1990s when Toyota Motor Corp. (NYSE ADR: TM) and Honda Motor Co. Ltd. (NYSE ADR: HMC) both introduced their first models. The cars would grow in popularity throughout the 2000s in the United States as gas prices rose and consumers became more environmentally conscious.
By the end of 2013, the world's largest hybrid maker, Toyota, had sold more than 6 million hybrids globally. More than 4.2 million Toyota Priuses alone have been purchased worldwide through 2013.
And while hybrid vehicles were a major step forward, the introduction of 100% electric vehicles is truly revolutionizing the industry.
The biggest key to that revolution so far has been Tesla Motors.
Tesla unveiled the "Roadster" in 2008, but the company sold just 2,250 vehicles over the next four years. While sales were weak, the Roadster paved the way for the Model S sedan.
"Big-name manufacturers such as Honda, Toyota, and others replaced gas tanks with batteries as demand began to rise [in the 2000s]," Money Morning's Global Energy Strategist Dr. Kent Moors said. "But it would be a real-world Tony Stark, billionaire Elon Musk, who would dazzle the world with the polished, luxurious Tesla, an advanced electric vehicle with a range of up to 300 miles on a single charge, who added sizzle and sex appeal to the industry."
Tesla: Revolutionizing the Auto Industry
After retiring the Roadster, Tesla unveiled the Model S sedan. It's a luxury vehicle that starts at $71,000 and is entirely powered by lithium-ion batteries. Many customers end up paying more than $100,000 for a Model S after adding upgrades like a "panoramic glass roof," leather seats, and lavish interiors.
It's not the only electric-vehicle on the market - the Chevrolet Volt and Nissan Leaf sell thousands of models a month - but it is certainly the most eye-catching.
"Musk's vision is the one leading the [electric vehicle] parade," said Moors. "His vehicles are praised by everyone from consumer and auto publications to politicians and automotive executives. The company's stock, up a whopping 1,048% in the last four years, is one of the darlings of Wall Street."
At the end of July, Tesla announced that it was upgrading its production facility so that it can begin manufacturing a similarly priced crossover Sedan named the Model X. Eventually, Musk wants to produce a cheaper vehicle, the Model 3, which will be about half the price of a Model S.
Tesla is also ramping up its production.