Tesla Motors Inc. (Nasdaq: TSLA) stock hit a new high on Aug. 29 thanks to very positive news out of China.
The world leader in electric vehicles is set to install 400 charging stations in roughly 120 Chinese cities. And that's on top of 200 charging stations Tesla already operates in the world's most populous nation.
The news comes just weeks after Tesla began selling its luxurious $70,000 Model S in China.
So far this year, TSLA shares are up more than 80%. And its Chinese expansion should propel the stock even further – in fact, I think China will become Tesla's biggest market within the next year.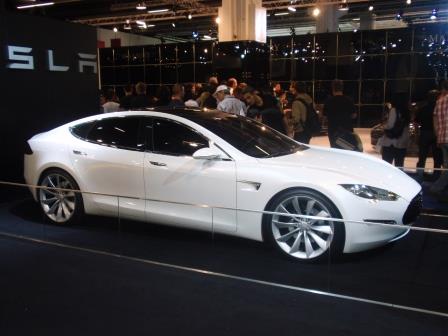 But that performance, as impressive as it is, pales in comparison to the performance of a Chinese auto e-commerce company I told you about on Feb. 4.
Since then, your shares have gone on a tear, rising some 220%.
This exciting stock isn't done yet, however, and I think you're going to make another 50% over the next couple of years. Let's see how that's going to happen…
A Very Speedy Auto Rally
My good friend and colleague Money Morning Executive Editor Bill Patalon and I have many things in common, not the least of which is we're both "car guys."
I used to be an auto analyst in Detroit, and I've rebuilt a couple of cars and worked on a dozen more. And Bill loves to regale me with stories of how he is working on his "little hot rod" – a 1931 Ford Model A Roadster Pickup with a beefed-up, small-block V8.
Naturally, then, when he suggested doing a Q&A with me last February about my views on China's burgeoning new-car market, I jumped at the chance.
At the time, I was convinced Bitauto Holdings Ltd. (NYSE ADR: BITA), which offers e-commerce and marketing services to China's auto market, offered savvy tech investors the chance for massive gains in relatively short order. Here's how I described Bitauto to Bill:
Talk about a growth machine. It has a three-year sales growth rate of 54% and has grown earnings per share in excess of 60% over the past three years.
If it just had half that earnings growth, profits per share would double in less than three years. In fact, I think the stock could double well before that if everything plays out the way I believe it will.
To put it mildly, the stock greatly exceeded my optimistic projections – again, a 220% pop in about seven months.
However, when a stock goes on such a quick, impressive rally, many investors wonder how much upside is left. (I'm betting that includes many of you who didn't invest in Bitauto the first or second time I recommended it.)
In this case, I still see potential for strong gains – and here's why.
Join the conversation. Click here to jump to comments…
About the Author
Michael A. Robinson is one of the top financial analysts working today. His book "Overdrawn: The Bailout of American Savings" was a prescient look at the anatomy of the nation's S&L crisis, long before the word "bailout" became part of our daily lexicon. He's a Pulitzer Prize-nominated writer and reporter, lauded by the Columbia Journalism Review for his aggressive style. His 30-year track record as a leading tech analyst has garnered him rave reviews, too. Today he is the editor of the monthly tech investing newsletter Nova-X Report as well as Radical Technology Profits, where he covers truly radical technologies – ones that have the power to sweep across the globe and change the very fabric of our lives – and profit opportunities they give rise to. He also explores "what's next" in the tech investing world at Strategic Tech Investor.