The latest Poll of Polls compiled by political expert Professor John Curtiss of WhatScotlandThinks.com suggests a neck-in-neck race with those favoring Scottish independence almost evenly divided with those who don't. The outcome, which will be decided on Sept. 18, – less than 72 hours from now – is going to lead to a whole host of unintended consequences.
Chief among them is the rise of the U.S. dollar – a move that's going to take many investors who are fed up with Washington's meddling by surprise.
Just over a week ago, when the first polls were released showing that the move for independence was gathering momentum, the pound sterling slipped to a 10-month low, trading at $1.6115 against the U.S. dollar. Lloyds Banking Group, for instance, lost £1.7 billion ($2.77 billion) by noon the day the poll was released while Standard Life shares also got knocked to the tune of £400 million ($651 million), as did other companies with similar exposure.
Since then, the British pound has gotten, well, pounded.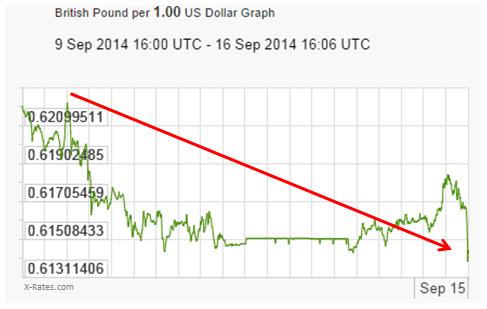 The misery is undoubtedly a long way from over.
And if Scotland actually goes through with this? I believe we're looking at a 5% to 8% collapse of the pound sterling. Perhaps even 10%!
A report by Spear's magazine and Wealth Insight suggests that one in seven, or roughly 15%, of Scotland's 22,000 millionaires will leave in this event. There is an almost total lack of apparent thought with regard to financial stability and the already high tax regime in place. A newly independent nation would be devastating to the property markets and an estimated £5 million ($8.14 million) worth of real estate deals would immediately come off the table according to estate agents as reported by the Daily Mail. Public-private infrastructure projects would no longer be backed by the British government and foreign direct investment would grind to an unceremonious halt.
Long story short, a vote for independence is going to unleash a brand new flight to safety as traders make a beeline to the U.S. dollar. Treasuries will rise, rates will fall, and commodities, which are largely priced in dollars, will go with them. That's because a rising dollar will make everything from oil to gold more expensive. Traders, who are keen to preserve margins and sales, will drop prices almost in lockstep in an effort to keep up.
Rising U.S. Dollar Is an Investing Opportunity in Disguise
For people who don't put the pieces together like we do, this is going to seem like an excuse to sell out of metals, oil, drillers, and much of the resource sector. Many already are.
But I think that's a tremendous mistake. If anything, a flight to the dollar is a monster buying opportunity and a tremendously bullish signal for the commodity complex longer term.
That's because what I am describing is nothing more than a short-term market dislocation. It does not affect how specific resource companies operate nor does it change the underlying demand for their products – which as you know from other columns I have written over the years – is growing by leaps and bounds.
For example…
Join the conversation. Click here to jump to comments…
About the Author
Keith Fitz-Gerald has been the Chief Investment Strategist for the Money Morning team since 2007. He's a seasoned market analyst with decades of experience, and a highly accurate track record. Keith regularly travels the world in search of investment opportunities others don't yet see or understand. In addition to heading The Money Map Report, Keith runs High Velocity Profits, which aims to get in, target gains, and get out clean, and he's also the founding editor of Straight Line Profits, a service devoted to revealing the "dark side" of Wall Street... In his weekly Total Wealth, Keith has broken down his 30-plus years of success into three parts: Trends, Risk Assessment, and Tactics – meaning the exact techniques for making money. Sign up is free at totalwealthresearch.com.