For 40 years, U.S. crude oil exports were illegal. For shipping companies, that ban meant billions in potential revenue were out of reach.
But with the export ban thawing, shipping companies are starting to ramp up for the coming U.S. oil export boom.
With this new loophole, their stocks are poised to boom as well...
Supertankers Set to Profit from U.S. Crude Oil Exports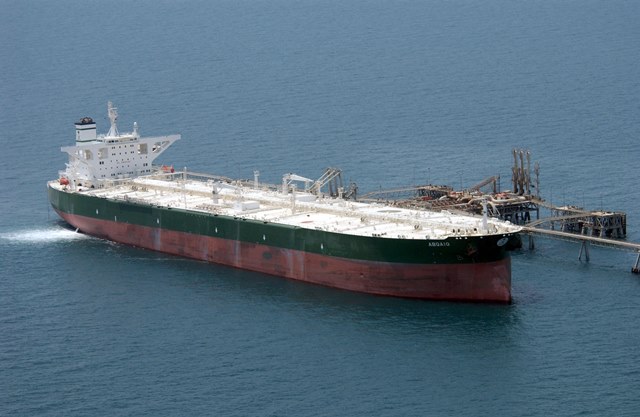 The largest supertankers can carry $340 million worth of crude oil between oil fields and refineries in virtually any country in the world - except, since the 1970s, from the United States.
In the wake of the Arab oil embargo and massive fuel shortages, crude oil exports were banned in the United States.
But with fracking extracting record-setting amounts of "tight" oil from shale, American companies have a glut of light crude... more than U.S. refineries can efficiently handle.
U.S. companies have always been allowed to export lightly processed crude, called "condensate." But the biggest ships - the ones that generate the biggest profits - carry crude.
Those ships, dubbed Ultra-Large Crude Carriers (ULCC), can carry more than 3 million barrels of crude oil. Shipping companies get about $25,000 per day when they lease these behemoths, about double the break-even point.
Thanks to overbuilding in the early 2000s, shipping companies had excess hauling capacity. When the world economy stalled in 2008, they were left with idle ships and contracts that paid, on average, under $10,000 per day.
Although the global economy has been on an upswing, the industry hasn't returned to its earlier profitability.
But now it looks as if it soon will.
Exploiting a recently discovered loophole in U.S. law, the BW Zambesi, a Singaporean tanker, sailed from Texas City, Texas, to South Korea last month with $40 million worth of minimally processed crude. The U.S. Commerce Department has begun granting limited licenses to a handful of companies for crude export under certain circumstances.
The industry, U.S. Energy Secretary Ernest Moniz, and other members of the Obama administration are pushing for even more.
Even with the current ban in place, shipments of allowable condensate rose 45% in 2013, according to the U.S. Commerce Department. Industry estimates say that crude oil exports could reach $15 billion within three years if the current ban was lifted, with a Brookings Institution study pegging the export rate at 3.6 million barrels per day by 2020 if the ban is eliminated next year.
Energy research group IHG predicts those same exports could add $1 trillion to U.S. government revenues by 2030. That, in turn, would encourage even more oil production in the United States and, as predicted by the Council on Foreign Relations, stabilize or even lower gasoline prices for U.S. consumers.
It would also greatly increase profits for shippers like these...
At Today's Record-Setting Mileage, They Can't Build Tankers Fast Enough
In anticipation of increased U.S. crude shipments, shipbuilders and tanker companies are gearing up. Aker Philadelphia Shipyard and General Dynamics Nassco, both U.S.-based, are building 11 new tankers, with 12 more on order. Monaco-based Scorpio Tankers (NYSE: STNG), an industry leader, recently ordered 58 new tankers, more than doubling its fleet.
The ClarkSea Index, which measures industry lease rates, jumped 79% last year to $17,141 a day, its highest level in years, and is set to jump again this year.
As a result, tanker trading volume rates have been increasing faster than at any time over the past decade, while metric ton miles (industry shorthand for calculating volume moved over distance traveled) were up last year to an all-time record of 7.8 trillion.
One company well positioned to take advantage of these market changes is Nordic American Tanker Ltd. (NYSE: NAT).
Based in Bermuda, Nordic American has a fleet of 20 tankers. During 2012 and 2013, the company used market weakness to dry dock and update its oldest vessels, preparing them for the market upswing we're seeing now. The company also added two new tankers to its fleet this year and signed two new one-year contracts with a major U.K. oil company that will put those tankers to work right away.
Meanwhile, investors are cushioned against stock swings by a 5.5% dividend, the latest in a steady string of 68 consecutive quarters of dividends that stretches back to 1997.
Investing in the prospect of U.S. oil exports and the tankers that would carry them could prove to be an early move that leads to big gains.
But there's another oil shipping investment we'll uncover soon in Oil & Energy Investor that could be even more profitable...
These ships make four times what an ordinary oil tanker makes (and they never have to leave U.S. waters).
NEXT: Uranium has begun to rebound, posting its largest gain in more than 30 months. With nuclear power bouncing back worldwide and the number of global uranium mines declining, uranium prices are poised to head even higher...
[epom]