Tesla Motors Inc. (Nasdaq: TSLA) is one of the most talked-about stocks on the market. Today (Thursday), it's up 5% in pre-market trading after its famous Chief Executive Officer, Elon Musk, hinted at a major announcement to come on Oct. 9.
The constant media coverage has our readers asking us, "Should I buy Tesla stock? Is it too late to capture TSLA gains?"
While we're very bullish on Tesla's potential, as we'll talk about later, the answer to whether or not to buy is a bit more involved...
A Tesla Stock Overview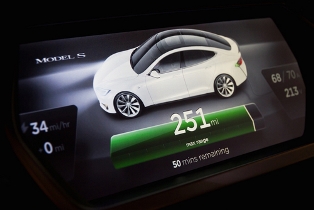 The first thing to know about TSLA is that it's one of the most volatile stocks on the market.
Seemingly every week the stock makes a major move depending on what type of news comes out about the company.
You see, Tesla is a leader in the electric vehicle industry, which is viewed as revolutionary by supporters and as impractical by detractors. When news breaks that supports either side of the argument, the stock sees huge price swings.
Last month, TSLA stock surged to an all-time high of $291.42 after the company announced it would bring its $5 billion Gigafactory to Nevada. The factory is expected to revolutionize the production of lithium-ion batteries. At that high, TSLA was up 14% in just 10 days. Since the start of 2013, the stock is up 586%.
However, the TSLA stock price dips have been just as dramatic.
On May 5, TSLA closed at $216.61. Just three trading sessions later, TSLA fell all the way to $178 per share - a nearly 18% drop - when the company reported quarterly profit fell to $17 million from $45.9 million on increased spending.
Currently, TSLA is at the low end of one of its price swings, having slipped 11% in the last month. Right now, TSLA trades near $40 per share.
Because of those wild swings, Tesla stock is not for everyone. Investors turned off by short term risk will want to avoid TSLA because predicting the day-to-day swings for the stock are nearly impossible.
But for investors who are willing to hold on to a stock for a few years and assume some risk, TSLA stock is one of the best options on the market because of its serious growth potential - especially at today's discounted price.
Money Morning's Chief Investment Strategist Keith Fitz-Gerald has been following Tesla for years, and he thinks the stock could climb dramatically in the coming months and years.
"This company is on track to see a stock explosion that will make its surge back in the spring of 2013 look like a speed bump," Fitz-Gerald said.
Here are the driving forces that will push the Tesla stock price to new highs...