The small lithium-ion batteries that Tesla Motors Inc. (Nasdaq: TSLA) uses to power its luxury $70,000 (base price) electric cars look very similar to the AA batteries you put in your television remote. They're about 2.5 inches long and the Tesla Model S sedan uses thousands of them to travel for 265 miles on a single charge.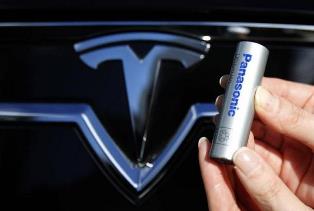 But the applications for these tiny batteries are much bigger than just electric cars...
You see, Tesla Motors' Chief Executive Officer and Founder Elon Musk is also the Chairman of the SolarCity Corp. (Nasdaq: SCTY), the largest provider of solar power in the United States. Together, the two companies are working to make solar power ubiquitous in the United States - with the help of the lithium-ion batteries.
That means within the next decade, these tiny energy packs will not just power your car, but your home, your neighbor's home, your children's schools, your entire city...
Tesla and SolarCity's Massive Power Plan
SolarCity has founded in 2006 and currently has more than 6,000 employees. The company serves tens of thousands of customers in 15 states, and runs 45 operations centers.
Aside from residential customers, SolarCity also serves more than 400 schools, government agencies, and corporate clients.
In classic Elon Musk fashion, he has applied "out of the box" thinking to SolarCity's business model. Instead of charging customers for the solar panels (which can cost thousands of dollars each), SolarCity provides them free-of-charge, and then charges for the solar power itself.
However, one of the biggest problems with solar power on a massive scale has always been its reliance on a city's power grid. Right now, solar power draws minimal resources from the grid because it's still not widely accepted, but a widespread adoption of solar power could strain a city's resources.
That's where Tesla's lithium-ion batteries come into play.
By including the tiny batteries in the solar panel, SolarCity's panels would be self-sufficient. Say a large cloud passes over a customer's house; instead of drawing electricity from the city's power grid, the batteries will take over.
Right now, the batteries used to back up solar panels are too large for residential application. The small, but powerful, lithium-ion batteries appear to be a natural solution.
And like the solar panels themselves, SolarCity also plans to provide the batteries to customers for free.
That's important, because one of the biggest arguments against Tesla's batteries has been their price tag. While the Tesla Model S is a luxury sedan, one of the main reasons it has a base price of $70,000 is the batteries.
But that price issue is something Tesla is already addressing. In fact, the company is about to spend $5 billion to eliminate the problem...