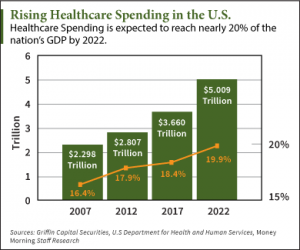 Google (Nasdaq: GOOG, GOOGL) has made history with its Internet innovation - but now it's about to leave the same mark on another industry...
You see, GOOG knows the healthcare sector is one of the fastest-growing markets today. Healthcare is a $2.8 trillion-a-year industry in the United States alone.
Healthcare spending currently accounts for 18% of the U.S. economy. It's expected to grow to 20% - or $5 trillion - by 2022 and create 3.5 million new jobs through 2020.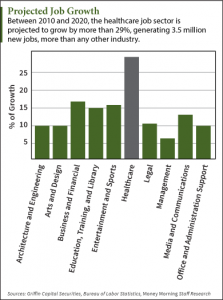 On a global scale, Freedonia group researchers estimate the value of the health industry at $10.8 trillion a year by 2017.
Venture capital firms see the potential. In just the first six months of 2014, VC funding for healthcare tech firms shot up 176% to a record $2.3 billion, according to a survey by seed funding firm Rock Health. That compares to the $2 billion invested in all of 2013.
It's no wonder Google sees opportunity here. And the search engine king's Big Data capabilities mean it has a lot to offer.
Google Ventures Gives Healthcare Startups a Shot in the Arm
Google's investment arm, Google Ventures, invests about $1.5 billion in promising startups. One of its main focuses is on health and Big Data. Ventures currently has 13 American life science and health companies in its portfolio, plus other healthcare-related investments in seed, enterprise, and data startups. In July, Ventures launched a $100 million fund to invest in promising European startups.
"My job is kind of a judge at a science fair," Google Ventures managing partner Bill Maris said to Re/code in June. "What we try to put into our practice is 'invest in what we know,' which is where healthcare meets technology. In some sense, almost all companies these days need to be big data companies."
Science tech startup DNAnexus is one recipient of Google Ventures funds. It received $15 million in 2011, and then another $15 million in series C venture funding earlier this year.
DNAnexus seeks to understand how genetics affect heart disease and aging. It specializes in a cloud-based DNA sequencing service that works through human genomic data. By joining forces with Google, it developed a new interface that lets researchers efficiently browse datasets and download the sequences they need.
Google Ventures also backed Foundation Medicine in 2011. Foundation is a genomic profiling service that helps oncologists match patients with the best therapies. Ventures gave more money to Foundation in 2013, at which time noteworthy former Microsoft Corp. (Nasdaq: MSFT) CEO Bill Gates also contributed.
In May, Google Ventures led a $130 million round of funding in Flatiron Health. According to The Wall Street Journal, the round was the fourth-largest investment Google Ventures has made to date and its largest in medical software.
Flatiron uses Big Data analytics to gather up and track cancer treatment records. This gives doctors a clearer picture of cancer patient care. Currently, 500 to 1,000 oncologists use the startup's data platform.
"Cancer will likely touch all of us at some point in our lifetimes, either as a patient or as the family or friend of a patient. Flatiron has pioneered a way to learn much more about cancer, so that we can improve the way we care for patients and treat the disease," Google Ventures general partner Dr. Krishna Yeshwant said in a statement.
Google's healthcare enterprise doesn't stop at venture funding - the company has its own life-changing work in-house as well...
Google Takes on Age-Related Diseases
In September 2013, Google unveiled Calico. Funded by Google but operating independently, Calico focuses on combatting diseases associated with aging.
Google chose current Apple Inc. (Nasdaq: AAPL) chairman and former Genentech CEO Arthur D. Levinson to lead Calico. The appointment surprised many, as Apple competes with GOOG on several fronts. But Apple CEO Tim Cook artfully admitted he was impressed with the move.
"For too many of our friends and family, life has been cut short or the quality of their life is too often lacking. Art is one of the crazy ones who thinks it doesn't have to be this way," Cook said. "There is no one better suited to lead this mission and I am excited to see the results."
In August, Calico teamed up with drug maker AbbVie Inc. (NYSE: ABBV). The two companies aim to spend up to $1.5 billion to fund new drugs and treatments for everything from Alzheimer's to cancer. Together, they will establish a research center in San Francisco and hire top scientists to carry out the shared goal. They'll split costs and profits evenly.
"The potential to help improve patients' lives with new therapies is enormous," AbbVie Chief Executive Richard Gonzalez said in a statement. He added that the collaboration "demonstrates our commitment to exploring new areas of medicine and innovative approaches to drug discovery and development."
Levinson wrote on Google Plus that the partnership with AbbVie will "turbocharge" Calico's mission.
Google X Aims to Define "Perfect Health"
Google's super-secret research arm, Google X, isn't going to be left out of the healthcare initiative.
In July, Google X launched "Baseline Study" - a project aimed at creating the most in-depth picture of what the ideal healthy human looks like. It's led by Dr. Andrew Conrad, a molecular biologist responsible for revolutionary work in HIV testing.
Dr. Conrad has built a team of roughly 100 experts in various fields since 2013. The team began clinical testing this summer. It began testing 175 people, but eventually there will be thousands. Baseline's researchers are collecting massive amounts of genetic and molecular data. These will help detect cancer, heart disease, and any other harmful indicators far ahead of our current ability to do so.
"With any complex system, the notion has always been there to proactively address problems," Dr. Conrad told The Wall Street Journal in July. "That's not revolutionary. We are just asking the question: If we really wanted to be proactive, what would we need to know? You need to know what the fixed, well-running thing should look like."
GOOG's vast computer and data network - one of the largest in the world - will be put to use to store and analyze the medical data that fuels Baseline.
We know Google's very good at sorting and making available the world's info. If it's just as good at sorting and making available human body data, then investors in Google stock are in for a fantastic ride.
"Google is a quality stock with rock-solid fundamentals. In fact, it's one of my all-time favorite tech stocks," Money Morning Defense & Tech Specialist Michael A. Robinson said earlier this year. "I expect Google to grow its earnings per share (EPS) this year by 21%, a rate at which profits would double in about 3.5 years."
[epom key="ddec3ef33420ef7c9964a4695c349764" redirect="" sourceid="" imported="false"]
Here at Money Morning, we believe tech investments are an essential step in wealth building. The sector creates some of the richest investors - and continues to get more lucrative. It's no surprise that Ebola stocks are the hot topic in tech right now. A number of companies are racing to find a treatment, and investors are piling in. But here's what you need to know about them...
Related Articles: