Today I'm going to give you access to a recommendation I released just hours ago to paid-up members of my specialized trading service, The Geiger Index.
I've never done this before, and frankly, I won't do it often, because it's not fair to subscribers who are paying thousands of dollars for my profit recommendations.
But this is too big not to share.
In fact, I don't think you're going to see another entry point like the one I'm about to share with you for years.
So let's cut to the chase with today's opportunity. It's hooked directly into one of the "Unstoppable Trends" we haven't talked about yet in my Total Wealth publication, and it involves a tactic that's ideal for market conditions right now. So I want to make sure you know how to use it.
Stock of the Day: How to Play Halliburton (NYSE: HAL)
Oil prices got smashed to three-year lows Tuesday following a Saudi price cut that traders believe paves the way for even lower prices in the months ahead. Not surprisingly, many great companies related to energy have gotten slammed in a classic "guilt by association" move.
For millions of investors, this is a watershed moment. They pay huge amounts of lip service to wanting a correction, yet now that it's happening, they are completely panicked. Many can't take their fingers off the sell button.
I say you use that to our advantage and make a move to pick up one of the energy industry's strongest players – Halliburton Co. (NYSE: HAL), which was off a whopping -5.99% Tuesday alone.
Right now there's a classic "hook pattern" forming, which you can see quite clearly in this chart from YahooFinance.com highlighting Tuesday's trading action. All three elements – falling price, a horizontal base, and a large volume bar – are there, confirming that this is an ideal entry point.
If you're not familiar with the term, a "hook" is a pattern formed when institutional traders squeeze the weak money out of a trade and proceed to take it in the opposite direction after doing so; in this case that's up.
Hooks are time-insensitive so they can play out in minutes, hours, or even days. You'll know a hook when you see an extended price movement in one direction that is accompanied by a dramatically higher bar at or near the bottom that signals capitulation. That, in turn, is followed by a period of digestion or accumulation before prices reverse.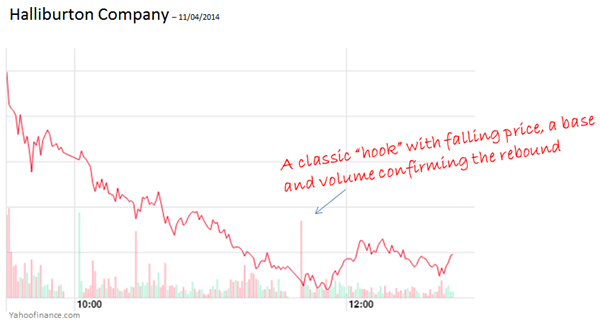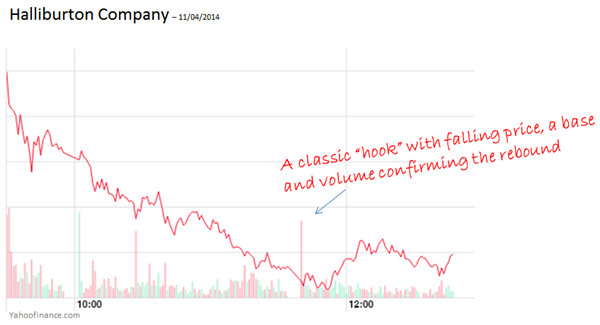 So here's what to do…
Join the conversation. Click here to jump to comments…
About the Author
Keith is a seasoned market analyst and professional trader with more than 37 years of global experience. He is one of very few experts to correctly see both the dot.bomb crisis and the ongoing financial crisis coming ahead of time - and one of even fewer to help millions of investors around the world successfully navigate them both. Forbes hailed him as a "Market Visionary." He is a regular on FOX Business News and Yahoo! Finance, and his observations have been featured in Bloomberg, The Wall Street Journal, WIRED, and MarketWatch. Keith previously led The Money Map Report, Money Map's flagship newsletter, as Chief Investment Strategist, from 20007 to 2020. Keith holds a BS in management and finance from Skidmore College and an MS in international finance (with a focus on Japanese business science) from Chaminade University. He regularly travels the world in search of investment opportunities others don't yet see or understand.