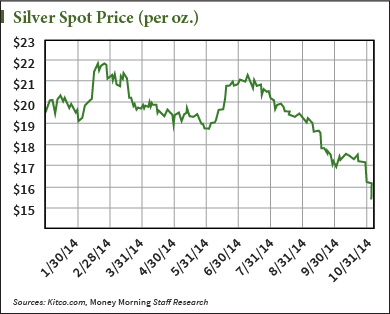 Historically bearish sentiment is the biggest factor behind why silver prices are falling this week.
And it doesn't help that the U.S. dollar is picking up strength, as Japan and the Eurozone begin to actively work to devalue their currencies.
This all paints a very grim picture for precious metals investing.
"Gold and silver are likely close to a final capitulation, probably around the $1,000 level for gold and $12 for silver," said Money Morning Resource Specialist Peter Krauth.
You heard that right: $12 silver.
This seems somewhat unthinkable for the white metal that just three and a half years ago was pushing up toward $50 an ounce. But this isn't the end of the long-term silver bull-run.
"Sentiment may be in the toilet, but demand and fundamentals remain stunningly bullish," Krauth added.
To understand the factors driving silver lower right now, here's a closer look at the power of the bears…
Unsustainable Bearish Sentiment on Silver
A quick glimpse at the speculator data proves how sentiment has moved silver lower.
As of the most recent data from the Commodity Futures Trade Commission, speculators had held 51,711 contracts short – paper bets that rise in value as silver falls in price – representing 258.6 million ounces. Heavy bets against silver have triggered more shorts recently.
But this is a pattern that at some point reverses. Speculators who are short eventually buy silver if they want to close out their short position.
Think of it this way. When a short is opened at a price, the short seller is essentially selling silver at that market price. Because they don't own the silver they sold – it is borrowed on margin through a margin account – they have to buy back the silver contracts to close out the short position.
So they only profit if they buy long contracts at a price lower than they sold it, pocketing the difference.
What has typically been the case with speculation this year is that speculators would begin piling up the short positions. This increased selling pressure would then push down silver prices. And when silver prices hit a low, speculators would cover their shorts to lock in gains for fear that the market would deem silver oversold and invite the bulls back in.
When short volume reached a high volume and prices were hitting troughs, the shorts would cover their position en masse and the sudden surge in buying pressure would give silver a nice lift.
With silver prices so low, and shorts at a record high level, you'd expect this to have happened by now.
But it hasn't.
At the end of September, silver shorts had hit a new record. After just one week of short covering, the bears reestablished their position and there wasn't the expected short liquidation period. Four weeks later, the shorts hit a brand new record.
The bears are winning right now, and they are holding tight. They aren't backing off, which signals to the markets that even at the ridiculously low level of around $15, silver still has room to fall.