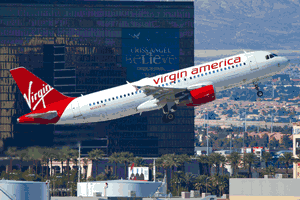 The biggest name on this week's IPO calendar is Virgin America Inc. (Nasdaq: VA), as Sir Richard Branson prepares to take his airline company public.
Virgin America wants to raise $300 million by selling 13.3 million shares at a range of $21 to $24 per share. At that price, VA will have a market cap of roughly $1 billion.
While Branson created the airline, his company Virgin Group currently owns just 22% of Virgin America's voting stock. U.S. regulations restrict foreign ownership of U.S. airlines to a maximum 25% stake. Branson's minority holding in the company allows the airline to fly between U.S. cities.
In the first nine months of 2014, Virgin America had revenue of $1.1 billion. According to the IPO ETF manager Renaissance Capital, that was a 5% year-over-year increase.
The Virgin America IPO comes at a time when airline stocks are vastly outperforming the markets. So far in 2014, Southwest Airlines Co. (NYSE: LUV) has climbed 106%, American Airlines Group Inc. (Nasdaq: AAL) is up 71.5%, and Delta Air Lines Inc. (NYSE: DAL) has gained 55.7%.
That compares to a gain of just 6.2% for the Dow Jones Industrial Average and 10.2% for the S&P 500 in the same time.
While the Virgin America IPO is the biggest name on this week's IPO calendar, there are nine other companies going public. Here's a breakdown every initial public offering this week...
IPO Calendar: This Week's Nine Other IPOs
Axalta Coating Systems Ltd. (NYSE: AXTA) manufactures and distributes high performance coating systems for the auto and transportation industries. The company was founded in 1866, and was sold from E.I. du Pont de Nemours and Co. (NYSE: DD) to The Carlyle Group LP (Nasdaq: CG) in 2013. AXTA plans to raise $878 million by offering 45 million shares at an $18 to $21 range. That makes the AXTA IPO the largest of the week. At the midpoint of that range, Axalta will have a market cap of $4.7 billion. In the last 12 months ending in June, Axalta had revenue of $4.4 billion. AXTA stock is the first of this week's upcoming IPOs, debuting on Wednesday, Nov. 12.
PRA Health Sciences (Nasdaq: PRAH) provides outsourced clinical development services to biotech and pharmaceutical companies. The company hopes to raise $400 million by offering 18.6 million shares at a $20 to $23 range. Following the deal, PRAH is expected to have a market cap of $1.3 billion. In the last 12 months, PRAH had $1.2 billion in revenue. According to the firm, the global market for its services was worth $22 billion in 2013. That should grow by 8% every year over the next five years. PRAH stock will begin trading on the Nasdaq on Thursday, Nov. 13.
Money Morning Members: Continue reading for the rest of this week's IPO calendar. For those new to Money Morning, sign up to keep reading - it's completely free...