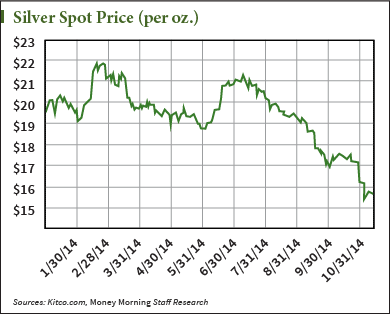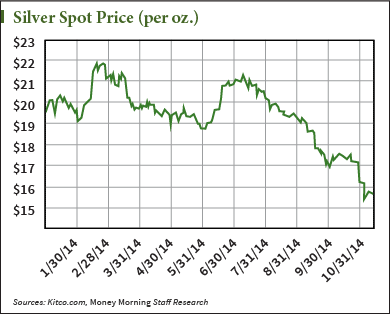 The price of silver hit new 2014 lows this month, and despite today's jump it still looks to be victim to highly bearish sentiment.
Just this summer the price of silver inched toward $22 an ounce for the second time this year. Silver really began to look as if it was reversing its dismal 2013 fortunes where it fell 35%.
Silver peaked at $21.445 in July. But since then, it has fallen to $15.665 as of market close yesterday (Thursday). This is a 20% drop for 2014.
Silver is above the new four-year low of $15.315 an ounce it established Nov. 5, but it doesn't look like the slump is over.
The bright side? You now have a chance to stock up on silver at absurdly low prices.
You see, silver is not the answer to quick, easy gains (unless you are an aggressive and active trader).  Instead, silver is the insurance policy you'll be glad you bought when the markets cool down and the U.S. dollar loses its luster.
In a time when global growth is stalling and the world's central banks are in a rush to print money, silver prices will gut it out way better than world currencies as their values diminish.
"I have physical silver," Money Morning Defense & Tech Specialist Michael A. Robinson said earlier this year. "I might have bought some at the top, but I don't care what the price goes to; I will not sell that physical silver. It's there for a reason – just like I have insurance on my car, I have insurance in case of a disaster."
Any uncertainty in the currency or equity markets will only add to silver's value. And those uncertainties are on their way…
Members-Only Benefit: Money Morning Members can get a free Silver Eagle when they open a precious metals account with Asset Strategies International. Go here to learn more about this special opportunity.
Forex Activity Can't Prop Up U.S. Dollar Forever
One of the silver price's biggest headwinds right now is U.S. dollar strength.
The U.S. Dollar Index, the widely followed benchmark of dollar value, is made up of a basket of currencies. The index grows as other currencies fall.
And that's what's happening at the moment.
A large portion of the currencies in the index's basket are down as their countries' central banks aggressively target inflation to reverse a deflationary spiral.