Blue chip stocks are foundational investments that bring solid, safe returns for years. They're internationally recognized companies with strong financials, and they frequently pay dividends.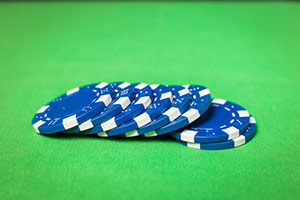 The traditional list of blue chips includes names like Procter & Gamble Co. (NYSE: PG), The Coca-Cola Co. (NYSE: KO), and AT&T Inc. (NYSE: T). They're reliable stocks and have been for decades.
And even though investors are repeatedly given the same list of blue chip stocks, there are new picks that can bring the same types of legacy profits.
In fact, we've found three stocks that can now be considered blue chips. They'll be reliable foundational plays in 2015 and for the foreseeable future – even if you don't see them on other blue chip lists.
Here's how we pinpointed the new class of blue chip stocks…
What Makes a Stock Blue-Chip Worthy
To determine the best upcoming blue chips, we created a list of five criteria that each company must meet:
Must be a member of a major index. Because blue chip stocks are major companies and household names, we require that our new class of blue chips be tracked by one of the major S&P or Nasdaq indexes, or the Dow Jones Industrial Average.
Must have a market cap over $30 billion. Large cap companies are defined as having a market cap over $10 billion. We went higher and picked a $30 billion minimum to ensure we're picking the biggest, most stable firms.
Must pay regular dividends, and have a minimum yield of 2.5%. Dividend payments are another hallmark of blue chips. Investors want stocks that can bring modest returns even when the markets are underperforming. Strong and regular dividend payments ensure investors always see some income.
Five-year EPS growth estimate over 5%. We also want companies projecting solid growth in the long term. Each of the companies listed below expects to increase earnings by at least 5% over the next five years.
Interest coverage ratio over 10.0. The interest coverage ratio measures a company's ability to honor its debt payments. The higher the ratio, the better the financial shape of the company. An interest ratio under 1.0 means the company is not generating enough money to pay its interest expenses. All of these companies have strong ratios, above 10.0.
With those five criteria and future growth prospects in mind, here are our three new blue chip stocks for 2015 and beyond.
Three New Blue Chip Stocks for Long-Term Profits