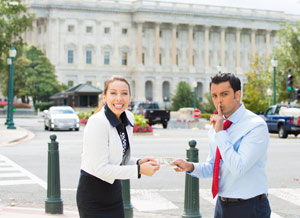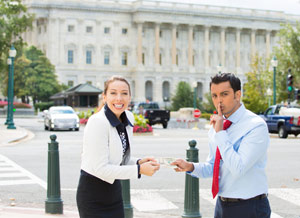 There may be a new insider offense perpetrated by the Washington-Wall Street "corruption corridor" - this one coming right out of the U.S. Securities and Exchange Commission (SEC).
Keith Higgins became the SEC's Director of Division of Corporate Finance on May 15, 2013. His top-tier job requires him to review the books of U.S. public companies to make sure they give proper, updated information to investors.
And in 2013, Higgins was also the biggest investor in individual stocks out of all high-level SEC officials.
You see, over the past two years, Higgins reported he owns large stock holdings worth between $2 million and $6 million across roughly 90 companies. In 2013 alone, he profited between $53,000 and $185,000 in dividends and/or capital gains.
All this as he accessed financial information on all U.S. public companies.
Is Higgins' investment track record an SEC conflict of interest?
We broke down the Nov. 21 report by Reuters - which reviewed pertinent SEC disclosures - so you can be the judge. Please take the time to leave a comment at the article's end - we want to hear from you!
SEC Conflict of Interest: YES or NO
Here's the deal:
Higgins manages a division that reviews thousands of corporate disclosures each year. These come from some of the most notable companies in the United States. The division also determines when to grant corporations regulatory waivers.
In 2014 alone, Higgins reported about 60 stock transactions. Two-thirds of them occurred late September. He sold so many equities that he's likely no longer to be the biggest stock holder among SEC leadership. The SEC said Higgins did it to "reduce the time needed to monitor his holdings" for potential recusal. But Higgins may have simply cashed out before more stringent conflict of interest laws are effectuated.
Stock holdings like Higgins' are currently allowed under federal and SEC ethics laws and regulations. Government officials are supposedly prevented, via recusal, from handling matters that could be of personal financial benefit.
An SEC spokesperson told Reuters that Higgins' stock ownership complies with conflicts rules. "The SEC's stock ownership rules are one of the most, if not the most, stringent of any federal government agency and go well beyond the standard prohibitions. A number of safeguards are in place in order to avoid even the appearance of a potential conflict of interest, including the requirement that all transactions be approved in advance and reported to the agency's ethics office."
If there is a conflict of interest, the SEC official must recuse him or herself from the responsibility. According to the spokesperson, Higgins has not had many recusals. In the few times he has been recused, it has "had no impact on his ability to perform" his director role.
Of Higgins' roughly 60 stock transactions reported this year, at least some were not sold at the best times. For example, he sold Nike Inc. (NYSE: NKE) shares on May 28, when the company's shares closed at $76.27. Since then, NKE has climbed 24%. However, the evidence here cuts both ways. For example, Higgins sold Exxon Mobil Corp. (NYSE: XOM) shares on July 14 when its stock closed at $102.68. XOM has dropped 6% since then.

Chuck Grassley, (R-Iowa), is likely to be appointed next chairman of the Senate Judiciary Committee that oversees SEC ethics laws. Grassley questioned current SEC rules and Higgins' trade history. He told Reuters that "the SEC should explain how and why its procedures allowing top officials to hold individual stock are adequate to prevent the appearance of a conflict of interest."
Loyola Law School securities law professor Michael Guttentag commented that it's "ill-advised" for public figures in a position of power in the markets to own individual securities. "At the very least, it creates the potential impression of impropriety."

Former SEC corporation finance director David Martin told Reuters "I would imagine that Keith could serve his entire time there and never be the deciding voice on a major issue for one of the companies in which he holds stock."
Georgetown University Law Center professor Donald Langevoort said further legal restrictions may damage the SEC's ability to attract top talent. He said there are benefits to having active investors in the agency's leadership. One benefit is it gives them "a little skin in the game."
Is Higgins' investment history an SEC conflict of interest? Should Congress tighten SEC's ethics laws, or is the system in place adequate?
Scroll down to the comment section below and weigh in...