The gold price today (Monday) rose as much as $50 per ounce after Switzerland voted Sunday to reject a referendum that would force the Swiss National Bank to hold some 20% (about $540 billion) of its reserves in gold.
Gold futures rose $42.60 – 3.6% – to $1,218.10 an ounce. This is the first time gold has closed above $1,200 an ounce since Oct. 29.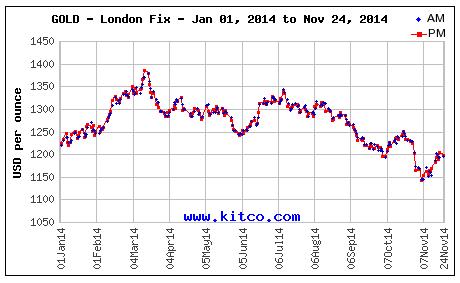 In Switzerland's landslide vote, roughly 78% voted against "protecting the country's wealth by investing in gold."
The "Save our Swiss Gold" rally cry would have prohibited the SNB from ever selling any of its bullion and would have required the 30% currently stored in Canada and the U.K. to be repatriated.
A "yes" vote would have been bullish for gold – but gold rose today anyway. One of the reasons is because the metal was oversold before the vote.
"The expectation was the vote would fail, so gold sold off ahead of time," said Money Morning Global Resource Specialist Peter Krauth. "But there was an overreaction in selling."
Up until about a decade ago, Switzerland boasted the highest gold reserves per-capita in the world. Referendum approval would have made Switzerland the world's third-largest gold holder by country, with about 1,932 tons.
Many in Switzerland still believe gold is the foundation for and the pillar of a strong currency.  But apparently many more don't…
"I think the issue in Switzerland is dead and buried," Adam Button, a currency analyst from Forexlive.com, told Kitco. "It shows that among the public, the appetite for gold as a reserves asset may not be as strong as we think. It shows that more people support 21st century monetary policy."
The initiative was widely criticized by the Swiss business and political communities because of its potential to interfere with the central bank's monetary policies.
Heading into the vote, this year's gold price had lost 16% since peaking on March 14 at $1,385 an ounce, and investor holdings of exchange traded products tied to gold are near a five-year low. HSBC estimated a "yes" vote would have also added as much as $50 an ounce to the yellow metal.