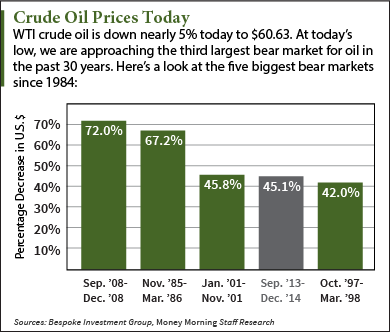 Crude oil prices today (Wednesday) plummeted again to a level not seen in five years. This means the current 16-month bear market in oil is very close to becoming the third largest in the past 30 years. It currently ranks fourth with a 45.1% drop that started in September 2013.
The price plunge came after the U.S. Energy Information Administration (EIA) reported an increase in U.S. oil supplies. The EIA said U.S. supplies were up by 1.5 million barrels in the week ending Dec. 5. Analysts had been expecting a drop of 3 million barrels.
The EIA also noted that gasoline supplies were up 8.2 million barrels.
WTI oil futures for January delivery fell as low as $60.63 on the news. That's the first time WTI broke the $62 threshold since 2009. It's also a drop of nearly 5% from yesterday.
Brent oil was trading below $65.
The EIA report came just hours after OPEC slashed its global demand forecast for 2015. The cartel now says global demand will be 28.9 million barrels a day in 2015. That's down from an earlier estimate of 29.4 million barrels. In November, OPEC announced it would not be cutting oil production, and will maintain its 30 million barrel per day quota.
Get the Best Oil Price Analysis - for Free: Money Morning Global Energy Strategist Dr. Kent Moors has been meeting with some of the world's top oil policymakers in Dubai this month to analyze OPEC's controversial new strategy. OPEC has refused to cut oil production, and in doing so has started an oil price war with U.S. shale producers. But the OPEC oil price war simply won't work, says Moors. Here's his exclusive inside look at the oil market...