Three factors explain why the price of silver is up this week - its third-biggest weekly jump of the year.
The spot price of silver has climbed 5% since last Friday. It closed at $17.095 an ounce yesterday (Thursday).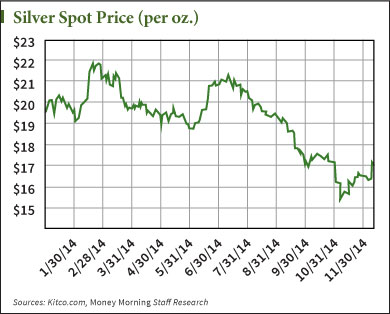 Silver hasn't gained this much in a week since late June, when it was up a little more than 6% on the week.
This is a welcome reversal. The silver price topped out at $21.445 on July 11. And from then on, silver prices struggled.
By Nov. 5, silver closed at $15.315 an ounce. That's a 28.6% fall since those July highs and a 21.7% decline on the year.
It has since gained 11.6%.
Here are three factors fueling silver's reversal...
Silver Price Rise Factor 1: A Surge in the Price of Gold
Silver prices often move in tandem with gold prices. When gold attracts investment interest, silver will typically also get a boost from like-minded precious metal investors. And gold has been on a tear lately.
Gold prices peaked in March, trading at $1,379 an ounce. They then began a seven-month descent. Prices plunged to $1,142.60 by early November - a 17% decline.
Gold prices have since recovered. They closed yesterday at $1,225.60, for a 7.3% gain from gold's November low.
Silver Price Rise Factor 2: Bearish Speculation Is Retreating
Speculation was partly to blame when silver prices fell almost 30% from July to November.
By July 29, bearish speculation - bets on a lower silver price - hit a 17-month low. Speculators held 12,603 short contracts, representing 63 million ounces of silver.
That number grew to 51,711 contracts - 258.6 million ounces of silver - by Oct. 28. This was the highest recorded number of short contracts for silver since reporting started in 1995, according to data from the Commodity Futures Trading Commission.
As expected, this growing short interest played a big role in lower silver prices.
Now bearish speculators have started to retreat. Short-side speculators have shed 22,781 short positions, or 113.9 million ounces of silver, since those record highs.
But short-side speculation could only help silver so much.
Here's the biggest factor behind why the price of silver is up this week...