The list of good defense stocks to buy in 2015 is growing.
Defense is always an important industry. It's a "need to have" instead of a "nice to have."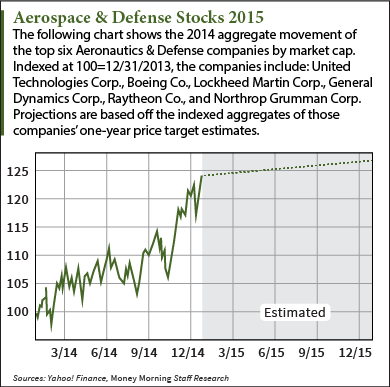 Military drawdowns in Afghanistan don't change this. Cuts to the Pentagon budget don't either.
"War, Terrorism, and Ugliness," Money Morning Chief Investment Strategist Keith Fitz-Gerald said, make defense stocks a Buy. They comprise one of six unstoppable investing trends he covers in his Total Wealth research service.
"War, Terrorism, and Ugliness are hardly happy-go-lucky subjects, so I don't want to convey the impression that I'm taking the misfortune that comes with them lightly," Fitz-Gerald said. "In fact, many of my choices in this sector are ultimately aimed at peace, health, and prosperity. In that sense, they are truly game changers. They can help us figure out how to keep the very things driving this unstoppable trend - War, Terrorism, and Ugliness - from happening more often."
War, Terrorism, and Ugliness aren't going away anytime soon. They outlive budget fights in Washington, and defense companies know this. They have for more than a century.
2015 will be no different. Syria is still in a civil war. The Islamic State has not been "degraded," as U.S. President Barack Obama pledged, and certainly hasn't been "destroyed." Tensions are high on the borders of Ukraine and Russia.
Defense companies will have their work cut out for them in 2015.
For investors, that means it's time to profit from "need-to-have" defense stocks. Here are your three best bets...
2015 Defense Stocks to Buy No. 1: Raytheon Co.
There's no better defense play right now than Raytheon Co. (NYSE: RTN). Defense cuts are slated for the years ahead, but Raytheon will make out fine.
It's the standard bearer of "standoff warfare."
"What this means in plain English is that our military is transitioning to hyper-accurate weapons that can target enemies from miles away, keeping our service members out of harm's way until they absolutely have to personally engage," Fitz-Gerald said. "That way, they can limit resources and exposure while still achieving maximum effectiveness on target."
Procurement trends favor stand-off warfare. And Raytheon's missile systems stand to gain.
Raytheon sees an encouraging trend for its STANDARD missile family. These missiles provide anti-air defense for cruisers and destroyers.
In 2013, U.S. acquisitions totaled $332.5 million. They climbed to $454 million in 2014, then jumped to $515.2 million in fiscal year 2015.
Similarly, the Air Intercept Missile-9X saw funding climb. Starting from $178 million in 2013, it soared to $244.6 million in 2014 and finally to $297.8 million in 2015. Small Diameter bombs, Evolved Seasparrow missiles, and Rolling Airframe missiles will enjoy stronger investment too.
That all goes without touching on Raytheon's overseas business. Foreign sales made up 27% of Raytheon's 2013 revenue. Customers include India, Turkey, Kuwait, United Arab Emirates, and Saudi Arabia, according to Morningstar. This will cushion it from U.S. defense cuts.
Money Morning Members, keep reading to see the next two defense stocks to buy in 2015.