2015 IBM Stock Forecast: Don't rush to buy International Business Machines Corp. (NYSE: IBM) stock right now.
While there may be some long-term strength, there are too many problems that IBM must overcome.
"IBM is such a frustrating company," said Money Morning Defense and Tech Specialist Michael Robinson on FOX Business' "Varney & Co." last month. "This is a stock that I would definitely avoid."
Last year pummeled IBM stock. It fell 12.4%.
IBM stock did rally at the end of the year. It fell to $151.41 on Dec. 16 - lows not seen since March 2011. It climbed 6% in the two weeks after.
But this is no reason to get excited.
Despite this rally, 2015 is not going to look much different for IBM than the last two and half years. The beating IBM stock took this year, coupled with a lousy 2014 sales picture, suggests that 2015 will be more of the same for Big Blue. That's why IBM stock is at best a "hold" going into 2015.
The next couple of quarters are crucial. They will determine whether IBM stock can become a long-term buy, or if it will be relegated to a "sell."
Here's what 2014 looked like for IBM, and what 2015 holds in store...
IBM's Promising Moves in 2014
To be fair, 2014 wasn't a total bust for IBM.
IBM sold off its low-end server business to Lenovo Group Ltd. (OTCMKTS ADR: LNVGY) in September. It also announced that it will offload its money-losing chip segment. Of course, IBM had to pay Globalfoundries $1.5 billion to take it off its hands.
This is an effort to shed high-cost business segments. This will help pave the way for IBM to enter into a new era of Big Data analytics and cloud computing.
It also inked a strategic partnership with longtime rival Apple Inc. (Nasdaq: AAPL). In the deal, IBM will develop enterprise apps for iDevices.
This alone will be a big boost for IBM as it looks to shore up business in mobile, where it has been a virtually non-existent player in the market, despite identifying it as a growth initiative.
But while these moves have helped grab headlines for IBM, they've done little for top- and bottom-line growth. The IT services giant has seen 10 straight quarters of declining revenue.
Chief Executive Officer Virginia "Ginni" Rometty's renewed focus on software and services has done little to stem the bigger losses in the hardware segments. Hardware sales have posted seven straight quarters of double-digit year-over-year losses.
Rometty's job security is waning. She may not even make it past 2015. Money Morning's Robinson said Rometty will be in the hot seat this year, and could be out a job if she can't boost a moribund sales picture.
"You certainly can't say Virginia Rometty isn't throwing herself into the job of turning around IBM," Robinson said. "But... Rometty has yet to deliver where it matters most - sales, profit growth, and stock returns."
In fact, none of Rometty's moves can bolster those numbers quick enough to make 2015 a productive year for the tech giant.
IBM's Previous Turnaround Efforts
Rometty isn't the first CEO enlisted by IBM to turn around a struggling company. Former CEO Louis Gerstner was handed the same task back in the early 90s.
That was when UNIX's open operating environments first challenged IBM. UNIX drew first blood for IBM's traditional mainframe business. And the rise of personal computing dealt the deathblow.
Gerstner shifted focus to services, away from hardware.
When he stepped in in 1993, hardware sales made up about 50% of revenue, while services comprised 12.8%. That revenue breakdown has since been flipped on its head.
Rometty is doing much of the same. She's renewed focus on software and services. And as the Lenovo and Globalfoundries moves show, she is also trying to shed the bulkier segments to avoid commoditization.
But she doesn't have the same advantages her predecessors had in keeping the IBM stock price from taking a dive. And that's why more losses are in store for IBM stock in 2015...
The Sneaky Factor That Kept IBM Stock Afloat - and Is Now Gone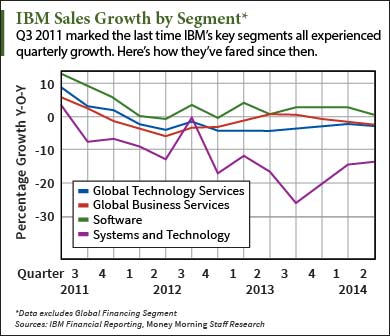 You see, IBM has been able to keep shareholders happy with some clever accounting.
This started with Gerstner and continued with the next CEO, Sam Palmisano. IBM kept feeding bottom-line growth through layoffs and outsourcing in its service business.
This was all in pursuit of arbitrary shareholder goals that Palmisano laid out in so-called IBM "Roadmaps." Roadmap 2010 promised, and delivered, on an EPS target of $10.
So successful were Palmisano's financial engineering efforts that he promised another much bolder EPS target - $20 in 2015. He pledged this in 2010.
This goal, unfortunately, fell to Rometty, who was more than happy to maintain this divestment strategy.
But the model proved unsustainable. Outsourcing and layoffs eroded IBM's global services segment. This was crucial given that it had become the cash cow after Gerstner shifted gears toward this segment to offset the decline in mainframes.
In Q2 2012, Rometty's second quarter on the job, total sales fell 3.3%. And services began to find trouble. Global technology services revenue dipped 2.4%, and global business services another 4.1%.
Financial engineering still won the day, however. EPS growth was up 11%, and the stock continued to climb in 2012 despite consecutive quarters of year-over-year declines.
This changed in Q2 2013. Sales not only fell, but so too did EPS growth. It was down 13%.
The next quarter, IBM missed analyst expectations by $1 billion. This is where IBM's current slide began. On the day of this earnings release, the stock saw its worst day under Rometty, plunging 8.3%.
In the most recent quarter, IBM sales were down for their 10th consecutive quarter. EPS fell 8% year over year.
The sales picture had become so bad that on Oct. 20, Rometty abandoned the five-year pledge to deliver $20 EPS in 2015. This furthered IBM stock's descent, as it fell 7.1% on the day.
This is where IBM finds itself in 2015.
Rometty can no longer financially engineer IBM to prosperity. "Big Data" and "cloud computing" can no longer serve as mere buzzwords in IBM's annual reports. They need to drive revenue growth.
The problem right now, though, can't be helped by either. Cloud revenue was up more than 50% for IBM in the most recent quarter. And analytics was up 8%. Even so, EPS was still down 8%, and revenue fell 4%. The two aren't key sales catalysts yet.
Meanwhile, Rometty needs more out of services. She needs to reverse the sales downtrend. And software, which grew sales a paltry 0.4% last quarter, needs to pick up to offset the inevitable decline in hardware.
"Rometty can successfully turn the company around over the long haul," Robinson said. "But the company's investors... shareholders... face some challenges over the next couple of quarters.
Tech Stocks in 2015: The good news for investors is many tech stocks are not like IBM. There are a number of emerging tech trends, innovations, and technologies that will headline an exciting year for tech and bring strong growth to the sector. Money Morning Executive Editor Bill Patalon sat down with our go-to tech guru Michael Robinson recently to discuss his outlook for the sector in 2015. Here's what he had to say...