Biotechnology is tech's fastest-growing sector. In fact, there are more than 100 biotech companies set to go public in 2015.
Of those 100 IPOs, 60 are expected to launch before April 1. So you have to move fast to ride this $320 billion biotech wave.
Those IPOs are all but certain to keep the biotech bull market going through the year. Biotech stocks have soared 290% in the past five years. That's more than triple the S&P's 88%.
And biotech IPOs are not the only catalysts that will lift biotech shares across the board in 2015.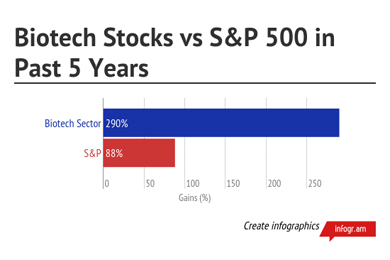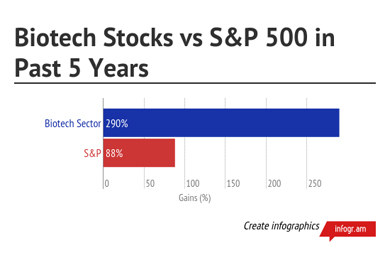 One reason is the sheer number of new "blockbuster" drugs expected to reach market. By this time next year, the FDA is expected to approve as many as 11 new treatments.
The big question is: How will you profit?
Get the 2015 Tech Investor's Forecast Today – 7 stocks that could create Alibaba-like wealth this year…
How to Profit from Biotech Companies in 2015
I've found one biopharmaceutical company that's projected to have $10.5 billion in yearly sales. Not to mention its leading drug is set to grow an incredible 50% over the next 24 months.
The company just negotiated a major deal with a "deep pockets" partner to develop an Alzheimer's treatment. This new drug could be an incredible opportunity for both investors and the Alzheimer's market.
But even those catalysts for success pale in comparison to this one…
Thanks to its breakthrough treatment for chronic hepatitis C, the biotech company I'm talking about is close to gaining control of a $13 billion market.
This firm's new treatment is so promising that the federal government has placed it on the rare "fast track" to approval. The largest U.S. pharmacy benefits manager publicly said it will likely adopt the treatment for its millions of hepatitis C patients. The company is currently finishing up clinical trials and could be approved any day.
When that day finally comes, I expect to see the company's stock price to boom.
I think we're looking at easy triple digits. And the company's hefty annual dividend of nearly 3% makes the deal even sweeter.
This biotech stock is only one of seven potentially high-profit moves I've tracked down. They can all quadruple your money and give you 8.2% in annual dividends.
All of the details are in my 2015 Tech Investor's Forecast, which I'd like to send you now…
You see, all the ingredients are now present for a multiyear run in tech stocks that will dwarf anything we've seen before – creating a slew of new tech millionaires. Make the right moves and you can be one of them. I will show you exactly what to do with this 2015 Tech Investor's Forecast . It highlights seven specific tech stocks to buy right now that could create Alibaba-like wealth this year. 
Join the conversation. Click here to jump to comments…
About the Author
Michael A. Robinson is a 35-year Silicon Valley veteran and one of the top technology financial analysts working today. He regularly delivers winning trade recommendations to the Members of his monthly tech investing newsletter, Nova-X Report, and small-cap tech service, Radical Technology Profits. In the past two years alone, his subscribers have seen over 100 double- and triple-digit gains from his recommendations.
As a consultant, senior adviser, and board member for Silicon Valley venture capital firms, Michael enjoys privileged access to pioneering CEOs and high-profile industry insiders. In fact, he was one of five people involved in early meetings for the $160 billion "cloud" computing phenomenon. And he was there as Lee Iacocca and Roger Smith, the CEOs of Chrysler and GM, led the robotics revolution that saved the U.S. automotive industry.
In addition to being a regular guest and panelist on CNBC and Fox Business Network, Michael is also a Pulitzer Prize-nominated writer and reporter. His first book, "Overdrawn: The Bailout of American Savings" warned people about the coming financial collapse - years before "bailout" became a household word.
You can follow Michael's tech insight and product updates for free with his Strategic Tech Investor newsletter.