Pundits continue to emphasize global supply as a major problem for oil prices, but a look at this oil chart shows those concerns over supply are overstated.
There's no denying global oil supply is on the rise. In 2014, the U.S. Energy Information Administration (EIA) reported oil inventories increased 0.8 million barrels a day (bpd). In 2015, that could grow to 0.9 million bpd if production remains the same.
Talking heads say that's a sign that oil prices will continue to slip. But they're missing the point.
You see, global oil demand has already risen past historic levels. The EIA reports that global consumption grew by 0.9 million bpd in 2014. The daily average in 2014 hit 91.4 million bpd.
The agency also says consumption will grow by an additional 1 million bpd in both 2015 and 2016.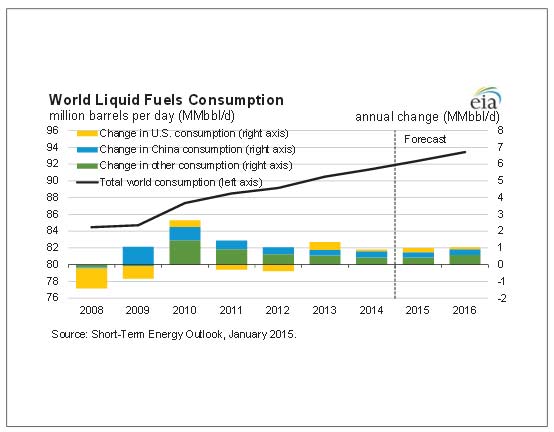 Money Morning's Global Energy Strategist Dr. Kent Moors, a 35-year expert in oil and gas policy, says oil demand has "nowhere to go but up." And this week's report from the EIA reiterates his point.
"The projected demand for oil in terms of millions of barrels per day has done nothing but climb higher and higher since 2009," Moors said in December. "The EIA puts current global oil consumption at a massive 91.5 million bpd, or more than 5.5 million bpd higher than in 2007.
Make 2015 Your Wealthiest Year Yet: Get in the best financial shape of your life with this guide to money making in 2015. You'll get the three bad investing habits to dump immediately, the single most effective strategy to maximize returns, and five stocks to get started on the road to wealth...
"At this very moment we are already experiencing the highest daily demand worldwide ever recorded," he continued. "And to meet future demand it's literally going to require a record-breaking amount of production every year as far as the eye can see.
[epom key="ddec3ef33420ef7c9964a4695c349764" redirect="" sourceid="" imported="false"]
"Meanwhile, the current global oil supply is estimated at just 92.2 million bpd, which hardly constitutes the 'glut' the TV pundits keep harping on."
Growing demand is why oil will rebound in 2015, according to Moors.
"As the most fluid commodity in the world, crude has the ability to quickly self-correct," Moors said. "That's why long-time oil veterans aren't worried about falling prices. In fact, the vast majority of them (including myself) actually expect oil prices to climb this year."
That's another point the EIA data supports. In 2015, the WTI oil price should average $55 a barrel, according to EIA estimates. At the end of 2014, WTI futures hit a low of $44.35. By 2016, the EIA sees WTI prices at $71 per barrel on average.
Start Profiting from Renewable Energy Now: As we shift into the "new age" of energy, one thing is very clear: This is no longer a zero sum game. While crude will continue to be the star, other sources of energy, such as renewable energy, will start to gain market share. And the projected future size of this market is nothing short of eye-opening...