You'd have to be living under a rock (and one without Internet access at that) to have missed the oil price swoon that has taken place since June.
Even after a recent bounce back from an under-$50 per barrel low, and a trough-to-peak rebound of 24% since the end of January, the technical picture does not indicate smooth sailing upward from here.
In fact, if there's only one metric we need to look at to determine where oil prices are going, it would be this one, and it's not showing the type of move we're hoping for any time soon.
In fact, it shows oil will have trouble "breaking the ice"…
Three Technical Indicators That Can Hold Oil Down in the Near Term
We'll use three of my favorite technical tools to see what could keep crude from rallying in the near term. Let's dig in right now.
Indicator No. 1: The Descending 50-Day Moving Average
There are two moving averages that are almost ubiquitous with institutional traders – the 200 day and the 50 day – representing the longer-term and intermediate-term time frames.
We'll concentrate on the intermediate-term, 50-day indicator here.
A simple moving average is mathematically very easy to calculate.  For a 50-day moving average, just add up all of the closing prices of the stock (or whatever instrument you're interested in) for the last 50 trading days, divide the total by 50, and plot the result on the price graph.
If the price of the stock is below the moving average, then current price action is weaker than that of the last 50 days. If price is above the moving average, current price activity is strong relative to its history.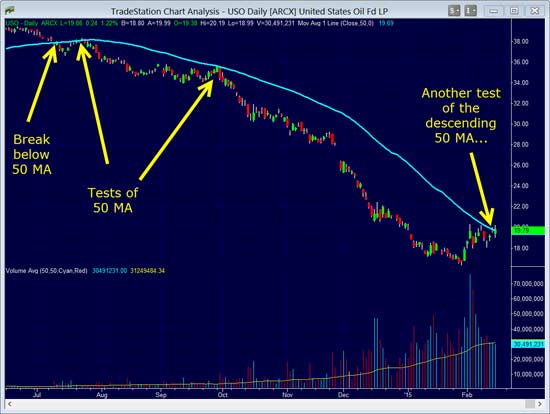 Let's take a look at a chart showing the United States Oil Fund LP ETF (NYSE Arca: USO) and its 50-day moving average:
After crude broke below its 50-day moving average in July, it tested it later that month, again in September and then was so weak that it did not muster enough of rally to test that area again until the middle of February.
The descending 50-day moving average forms a strong overhead resistance level by itself – but there are other two other reasons to expect that oil will have a tough time breaking above this congestion level.
Indicator No. 2: Wyckoff's Famous "Ice" Level
Richard Wyckoff was one of the fathers of technical analysis in the early 20th century. His concepts were so useful and comprehensive that they are still in wide use today.
One of Wyckoff's concepts was that of an "ice level" – an area of price support that when broken signals a clear "sign of weakness." These ice levels can occur after uptrends reverse or as downtrends continue. Wyckoff called price acceleration through a defined support level "falling through the ice" – a very simple-to-understand concept that happened in crude most recently in December: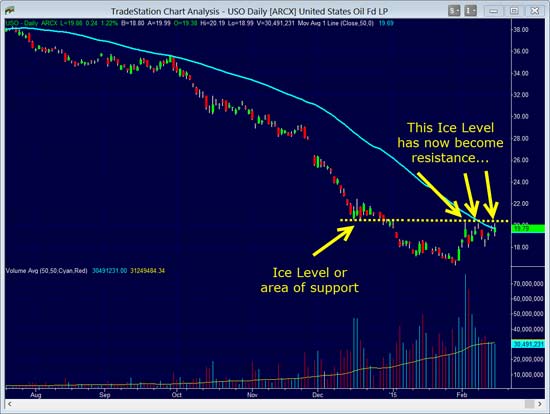 Once again we see the $20 to $20.50 zone in USO acting as resistance in this current price move, and it will take a serious push to break up through this "ice level" from below.
And that move is made even more difficult by the weakening energy of the bullish cause as evidenced in our final indicator…
Join the conversation. Click here to jump to comments…
About the Author
D.R. Barton, Jr., Technical Trading Specialist for Money Map Press, is a world-renowned authority on technical trading with 25 years of experience. He spent the first part of his career as a chemical engineer with DuPont. During this time, he researched and developed the trading secrets that led to his first successful research service. Thanks to the wealth he was able to create for himself and his followers, D.R. retired early to pursue his passion for investing and showing fellow investors how to build toward financial freedom.