Each week we look at how our top stocks to invest in have performed in 2015. This week we have a clear leader for 2015 gains ...
The top spot goes to vaccine-maker Novavax Inc. (Nasdaq: NVAX), up 56% year to date.
Though still in its cash-burning clinical trial phase, Novavax has vaccines in its current pipeline for seasonal flus and respiratory diseases. They use synthetic genes to create nanoparticle vaccines, a spin on the traditional production of vaccines that allows Novavax to deliver a novel vaccine candidate in just a matter of weeks.
Money Morning readers first heard about Novavax stock in September 2014 as one of our top biotech penny stocks to invest in. It has nearly doubled since then.
And Money Morning Small-Cap Specialist Sid Riggs recommended NVAX stock to his Small-Cap Rocket Alert service subscribers in November 2013. The stock is up 200% since then, closing Thursday at $9.25.
"The way I see things, Novavax represents a paradigm shift in the way vaccines are currently produced," Riggs said in November 2013. "The Novavax method implements a disposable, single-use manufacturing system - eliminating the need to clean and sterilize equipment between batches. That means an antivirus production facility can be built at a fraction of the cost traditional methods require."
While NVAX is still a stock to watch in 2015, now's not the time to start a position. It's a volatile stock - as many clinical stage biotechs are. There will likely be a better buying time in weeks ahead.
Instead, it's not too late to get in on another one of our top stocks to invest in that's also among 2015's top performers: Kratos Defense & Security Solutions Inc. (Nasdaq: KTOS).
Kratos is up 18.7% year to date, but we still see 70% upside in 2015. We recently profiled Kratos and why it's among our top stocks to invest in now. You see, Kratos is carving out a profitable niche in the defense sector. Already this year, Kratos has been awarded eight contracts worth $100 million.
To see our top 10 gainers so far in 2015, check out this chart - and keep reading to get our most recent list of top stocks to buy now: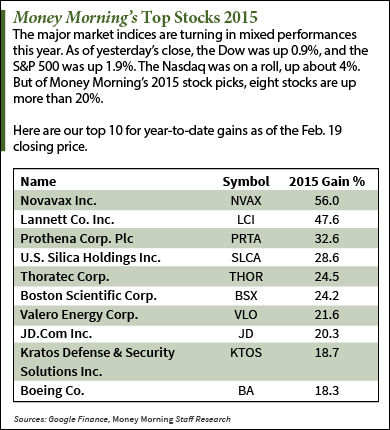 Go here to get our recent roundup of the top stocks to invest in now.
Follow me on Twitter @JimBach22